Letta Renzi: Leadership showdown for Italy's PM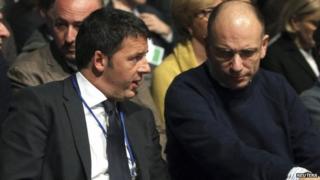 Italy's centre-left prime minister Enrico Letta faces a crisis meeting amid speculation that a younger party rival wants to take over his job.
Matteo Renzi, the 39-year-old mayor of Florence, became Democratic Party leader in December.
The meeting could become an open showdown, with Mr Renzi saying it will be live-streamed.
Mr Letta, 47, who formed a coalition with the centre-right last year, has said he intends to stay in office.
"You don't step down because of gossip, because of power plays and behind the scene activities," the prime minister said hours after a face-to-face meeting with Mr Renzi in Rome on Wednesday.
The mayor of Florence, long seen as the rising star of the Democratic Party (PD), has accused Mr Letta of lack of action, with unemployment at its highest level in 40 years and the economy shrinking by 9% in seven years.
Although the prime minister has kept a careful lid on public expenditure, he has not been able to carry out much needed administrative reforms and stimulate economic growth, the BBC's David Willey reports from Rome.
The leader of the New Centre Right, Mr Letta's main ally in the coalition government formed last April, has lent his support to the embattled prime minister without being drawn on the possibility of him being replaced.
Uncertainty over Mr Letta's position has so far had little impact on financial markets, in contrast with the volatility seen before the coalition was formed.
Live streaming
The PD meeting had originally been scheduled for next week but was brought forward to Thursday, with Italian media saying these could be crucial hours for the future of the government.
It is thought the party's 140-member leadership committee may decide whether or not to continue backing the government.
This comes after Mr Letta met Mr Renzi for about an hour at the prime minister's office, the Chigi palace.
At a news conference a few hours afterwards, Mr Letta warned: "Anyone who wants to take my place must spell out their intentions, I'm asking for clarity."
He presented a government reform agenda to the press - one of the arguments he is expected to use at the party meeting.
"I have lived every day like it's my last because there were so many who have been trying to kick me out," Mr Letta said.
Meanwhile, Mr Renzi - who has already said he favours an early general election - said he would make his intentions clear at the crisis party talks.
"What I have to say, I will say tomorrow at the leadership meeting at 15:00 [14:00 GMT], openly, in live streaming," Mr Renzi tweeted.
President Giorgio Napolitano, who appointed Mr Letta as prime minister, said earlier that a decision on the fate of the government was up to the PD.
However, the president - who alone has the power to dissolve parliament - has warned that this is not the right time for the country to go to the polls, our correspondent says.
New Centre Right leader Angelino Alfano said Mr Letta could count on a "loyal, correct and fruitful alliance" as long as he retained the backing of the PD.
But he would not be drawn on whether he would continue to support the government if Mr Letta was forced to step down. "We're not taking anything for granted and we will consider this possibility once it is confirmed," he told Canale 5 television on Thursday.