French judge orders Dieudonne to cut controversial video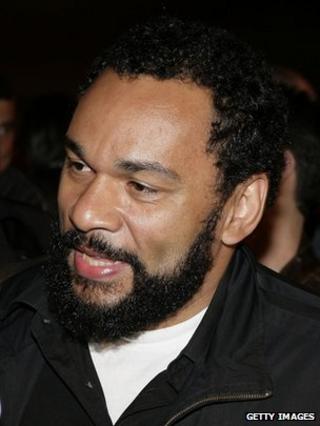 A judge in Paris has ordered French comedian Dieudonne M'bala M'bala to remove two parts of a YouTube video deemed insulting to Jews.
The judge said the two segments, which were specifically related to the Holocaust, could incite racial hatred.
Dieudonne, who already has convictions for hate speech, was also given a 1,500 euro ($2,045; £1,230) fine.
He has caused controversy in recent months, with one of his shows banned over concerns of anti-Semitism.
The comedian has already been convicted six times of hate speech against Jews, and already owed 65,000 euros in fines before this latest conviction.
Holocaust denial
The video in question is called "2014, year of the Quenelle".
In one of the clips that the judge ruled as insulting to Jews, Dieudonne referred his audience to the French academic and Holocaust denier Robert Faurisson when asked about whether the gas chambers existed.
A complaint was lodged by the Jewish Student Union, which called for the online video to be removed altogether.
Last week, Dieudonne was acquitted over the dissemination of another video in which he called for the release of a man who tortured and murdered a Jewish man in 2006.
On that occasion, the court ruled it could not prove he was behind the video's release.
His trademark "quenelle" gesture has been described by his critics as an "inverted Nazi salute".
But Dieudonne says it is an anti-establishment gesture, and denies that he is an anti-Semite, saying he is anti-Zionist.
Dieudonne is also linked to an anti-Semitism row involving the West Bromwich Albion striker Nicolas Anelka.
Anelka, 34, has been charged by the FA for performing the "quenelle" gesture after scoring against West Ham United in December.
In January, France's highest court upheld a ban on Dieudonne's one-man show The Wall, which contained sketches including the performer miming urination against the Western Wall in Jerusalem.
Earlier this month, Dieudonne was banned from entering the UK. The Home Office said it banned individuals if there were "public policy or public security reasons".