Dieudonne acquitted in France over video on killer of Ilan Halimi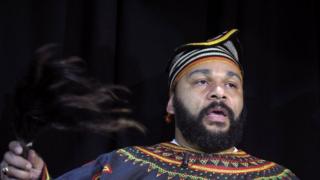 Controversial French comedian Dieudonne M'bala M'bala has been acquitted over a video where he called for the release of a man who tortured and murdered Ilan Halimi, a Jewish man in 2006.
The court ruled it could not prove he was behind the video's release.
Dieudonne, who has convictions for inciting hatred against Jews, had faced a fine of 20,000 euros (£16,600; $27,000) or 200 days in prison.
France recently banned one of his shows over concerns about anti-Semitism.
The comedian already owes 65,000 euros in fines for six convictions of hate speech against Jews.
Last week, police raided several properties owned by Dieudonne as part a probe into alleged fraud.
The government accused the comedian of trying to bankrupt himself in order to avoid paying the fines.
Dieudonne has caused controversy in recent months with what many regard as anti-Semitic comments.
The comic has joked about gas chambers and is accused of deriding Holocaust survivors and victims.
His trademark "quenelle" gesture has been described by some as an "inverted Nazi salute".
Dieudonne says the quenelle is an anti-establishment gesture, and denies that he is an anti-Semite, saying he is anti-Zionist.
In January, France's highest court upheld a ban on Dieudonne's one-man show The Wall, which contained sketches including the performer miming urination against the Western Wall in Jerusalem.
When he announced a new show devoted to Africa, this was also promptly banned by the authorities in Paris.