Anglo Irish Bank trial: 'Escapade' dealings 'cost £2bn'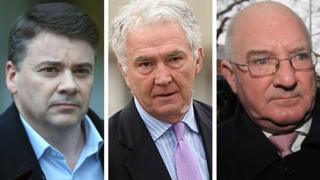 County Fermanagh businessman Sean Quinn lost 2.4bn euros (£2bn) in "escapade" dealings in Anglo Irish Bank shares.
The claim was made at the Dublin trial of three former bank executives.
Former chief executive of the Quinn Group, Liam McCaffrey, said Mr Quinn had "paid a very high price for investing in that bank".
A lawyer said Mr Quinn had taken a "spectacular punt" in deals that, at one stage, gave him control of 28% of all bank shares.
The trial heard that at one stage, in July 2008, Mr Quinn wrote a letter of complaint to Anglo.
A lawyer said that in that letter Mr Quinn "confirmed his belief he had been done down".
Sean FitzPatrick, Willie McAteer and Patrick Whelan deny 16 charges of lending bank money to individuals, including six members of the Quinn family, to buy bank shares.
Mr Quinn watched proceedings from the public gallery and will be called as a witness on Monday.
Earlier, Mr McCaffrey had told the jury he had had concerns about Sean Quinn's interest in Anglo Irish Bank.
But he said he would not use the word gamble.
The trial heard that Anglo lent the money after learning that Mr Quinn had gambled on the bank's share pricing even as it was collapsing.
Mr McCaffrey described Mr Quinn as an eternal optimist.
Mr Quinn was once the richest person on the island of Ireland and the 12th richest in the UK, but filed for bankruptcy in 2011.
'Deeply regretted'
The jurors heard of the then financial regulator's concerns about how Quinn Group company loans had been used to meet Sean Quinn's Anglo debts, resulting in a record 3.5m euro (£2.9m) fine for the group.
The trial also heard that in one meeting with the regulator, Mr Quinn said of himself "Sean Quinn needs to be reined in", and that he deeply regretted what happened.
Anglo, once a leading light in the Republic of Ireland's booming Celtic Tiger economy, later had to be bailed out by the Irish government, at major cost to taxpayers.
Mr FitzPatrick is the former chairman and one-time chief executive of Anglo.
Mr McAteer is its former chief risk officer and Mr Whelan is Anglo's former managing director of lending.
All three men are on bail.
The trial continues.