France publicly destroys seized ivory worth $6m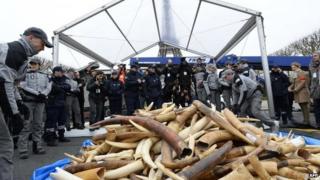 Three tonnes of confiscated ivory worth more than $6m (£3.7m) has been publicly destroyed in France, in what was the first such move in Europe.
Some 7,000 elephant tusks and 15,000 carved ornaments were crushed in front of the Eiffel Tower in Paris before being taken off to be burned.
The measure was designed to increase international pressure against elephant poaching in Africa.
About 22,000 elephants were killed by poachers in 2012, according to a study.
The report by the International Union for the Conservation of Nature and other conservationist organisations said the animals were killed for their tusks.
Activists say the demand for ivory - with China seen as the biggest market - is fuelling poaching in Africa.
The Chinese use ivory in traditional crafts, with carvings prized as status symbols, correspondents say.
An international ban means that any ivory traded after 1990 is illegal and can be confiscated, the BBC's Hugh Schofield in Paris reports.