Anglo Irish Bank trial: Collapse known as St Patrick's Day Massacre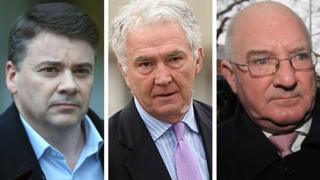 Anglo Irish Bank's share price collapse on 17 March 2008 became known in the finance industry as the St Patrick's Day Massacre, an Irish court has heard.
Details emerged during the second day of the trial of three former executives of the now-defunct bank.
The three men, Sean FitzPatrick, Willie McAteer, and Pat Whelan, deny providing illegal loans to help 16 clients buy shares shortly before Anglo collapsed.
It is alleged the move falsely propped up the failing bank's share price.
Anglo, once a leading light in the Republic of Ireland's booming Celtic Tiger economy, later had to be bailed out by the Irish government, at major cost to taxpayers.
'Ireland's richest'
Mr FitzPatrick is the former chairman and one-time chief executive of Anglo.
Mr McAteer is its former chief risk officer and Mr Whelan is Anglo's former managing director of lending.
The each deny 16 charges of providing unlawful loans to wealthy clients, using Anglo's money to prop up the bank's own share price.
The clients were 10 wealthy businessmen, known as the Maple 10, and six members of the family of former billionaire Sean Quinn Sr.
Mr Quinn, from County Fermanagh, was once the richest person on the island of Ireland and the 12th richest in the UK, but filed for bankruptcy in 2011.
Mr Whelan has also pleaded not guilty to a further seven charges of being privy to the fraudulent alteration of loan facility letters to seven people.
'Plummeted'
Day two of the trial at Dublin Circuit Criminal Court heard Anglo's share price peaked at 17.53 euros (£14.50) on 1 June 2007.
The jury was shown graphs illustrating the fall of the bank's value over two years, with its shares down to below seven euros (£5.80) by the following March.
Michael O'Higgins, senior counsel for Mr FitzPatrick, told the court that Anglo's value had plummeted around the time the big US investment bank Bear Sterns collapsed.
"Bear Sterns went under and Anglo shares sank by 20% at least - that has become known as the St Patrick's Day Massacre," he said.
Lawyers for both Mr FitzPatrick and Mr Whelan have said they accept loans were made to the 16 investors.
'Secret investments'
However, Mr Whelan's defence team has claimed that the loans were made with the knowledge of regulators in Ireland and the UK.
It has been alleged that the accused men's loan plan was devised to unwind secret share investments in Anglo built up by Sean Quinn Sr, using an extraordinary form of stock market gambling called Contracts For Difference (CFD).
Seamus Coffey, a lecturer in economics at University College Cork, appeared as an expert witness and explained how CFDs worked.
Mr Coffey said CFDs were like betting on a racehorse as opposed to owning the animal, with odds or returns linked to the horse's performance.
'Mass destruction'
Mr Whelan's barrister told the jury that the US billionaire investor Warren Buffett had strongly criticised CFDs as a form of trading.
"Warren Buffett described them as weapons of mass destruction in terms of how they can distort values of share prices on the stock market," the defence barrister said.
Mr FitzPatrick, 65, of Whitshed Road, Greystones, County Wicklow; Mr McAteer, of AuburnVillas, Rathgar, County Dublin; and Mr Whelan, of Coast Road, Malahide, County Dublin, are on bail.
The trial continues.