Volgograd 'bomb plotter' shot dead in Dagestan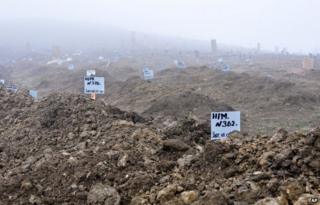 Security forces in Russia's troubled Dagestan region have shot dead the suspected organiser of the Volgograd suicide bombings during a house siege.
Dzhamaldin Mirzayev, 30, died along with another man after opening fire on security forces surrounding the house, Russian security sources say.
A third man surrendered during the siege in the town of Izberbash.
Two attackers killed 34 other people in the bomb attacks in Volgograd on consecutive days in late December.
The bombers, both male, were officially identified last week as Asker Samedov and Suleyman Magomedov, members of an Islamist militant group based in the Dagestani town of Buynaksk.
Two men suspected of helping them were arrested in Dagestan. According to one Russian news website, Life News, they are suspected of having driven the bombers hidden in a cargo of hay, acting under duress.
Russia is conducting the biggest security operation in Olympic history for the Sochi Winter Games opening on Friday.
Since the Volgograd attacks, there have been frequent shoot-outs in Dagestan, which has been the focus of Islamist insurgents in recent years after the wars in neighbouring Chechnya.
'Present' for Putin
In a video posted online by a group calling itself Vilayat Dagestan, two men who appear to be Samedov and Magomedov warned President Vladimir Putin to expect a "present" at the Olympics.
On Sunday 29 December, as Russians were preparing for the New Year holiday, one of the suicide bombers detonated his explosives near a metal detector at the entrance to the railway station, killing 18 people.
According to Russia's Komsomolskaya Pravda newspaper, Samedov carried out the station bombing.
The following morning, the second bomber blew himself up in a trolleybus, killing 10 people outright and fatally wounding six others.
More than 60 other people were wounded in the attacks.