European Parliament backs more air passenger rights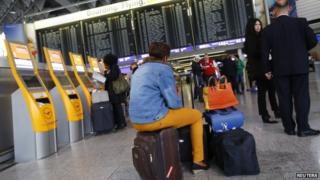 A bill to strengthen the rights of air passengers in the European Union has won the backing of the European Parliament at its first reading.
MEPs passed the bill to give travellers better rights to information, care and re-routing, when stuck at an airport.
The bill, which also boosts complaint procedures and enforcement measures, will be discussed again in June.
Currently just 2% of passengers are compensated after filing a complaint against an airline, MEPs heard.
"Air passenger rights concern practically every citizen of the European Union," said Georges Bach (EPP, LU), the European Parliament's rapporteur.
"It's a David versus Goliath story... I believe that the text we have voted today strikes a reasonable balance between the airlines and the passenger rights. We improved consumer protection on the one hand while recognising the flexibility that this industry requires, on the other."
Among the measures proposed by the European Commission, the EU's executive arm, are several new ones including
the right to information about a delayed or cancelled flight, 30 minutes after its scheduled departure
a complaint form common to the whole EU
the right of a passenger to have a spelling mistake in a name corrected free of charge
The parliament differed with the Commission in several areas. For instance, it proposed that technical faults could almost never be exempt from compensation complaints.
Detailed negotiations between the parliament, the Commission and EU governments are expected to begin after the European Elections on 22-25 May.