Italy migrant influx incessant and massive, says minister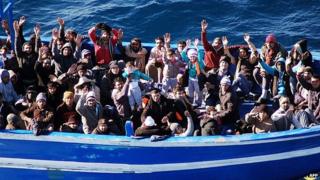 More than 2,000 migrants landed on Italian shores in January, the government says, compared to just 217 in the same month last year.
Deputy Interior Minister Filippo Bubbico said Italy was subject to an "incessant and massive influx of migrants" in 2013.
He said that a total of 42,925 migrants reached Italy by sea last year, an increase of 325% on 2012.
The figures do not include migrants who died making the perilous sea crossing.
Last October more than 400 people drowned in two shipwrecks near the island of Lampedusa, the closest Italian territory to North Africa.
Italy has been seeking help from other EU states to deal with the migrant influx.
"In 2013, Italy was subjected to an incessant and massive influx of migrants from North Africa and the Middle East," Mr Bubbico told parliament.
He said that a total of 2,925 vessels of various shapes and sizes landed on Italian shores last year, carrying about 43,000 people, including nearly 4,000 children.
Some 37,886 migrants landed in Sicily, including 14,753 on the Sicilian island of Lampedusa.
Most migrants had set off from Libya, followed by Egypt and Turkey, Mr Bubbico said. However, the main country of origin - based on migrants' declarations - was Syria, which accounted for 11,307 migrants compared to 582 in 2012.
Eritrea was the next highest point of origin with 9,834 migrants, official figures showed - an increase of more than 400% over the previous year.
Mr Bubbico said the government intended to reduce the maximum amount of time people could stay in immigration detention centres, currently fixed at 18 months.
Lampedusa has struggled to cope with the thousands of migrants coming ashore.
After last year's disaster near the island, the Italian government launched an operation called "Mare Nostrum", mobilising extra warships and aircraft to prevent further tragedies.
Immigration charities estimate that between 17,000 and 20,000 migrants have died at sea trying to reach Europe over the past 20 years.