Former Anglo-Irish Bank executives on trial in Dublin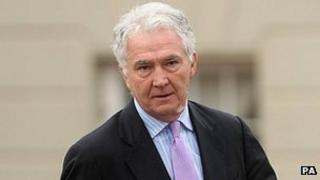 Three former senior executives in the now-defunct Anglo-Irish Bank have gone on trial in Dublin.
They are former chairman and chief executive Sean FitzPatrick, ex-finance director Willie McAteer and ex-chief financial officer Pat Whelan.
They are charged with providing unlawful financial assistance to 16 people to help them buy shares in Anglo shortly before its collapse.
The three accused deny the charges against them.
Mr Whelan also denies seven charges of being privy to the fraudulent alteration of a loan facility letter.
Stock market gambling
The charges are linked to alleged loans of more than 450m euros (£374m).
The loans were allegedly made to 10 businessmen, known as the Mapel Ten, and six members of the family of the Quinn family from County Fermanagh.
The Quinns included the wife of the bankrupt former billionaire Sean Quinn Sr and the couple's five children.
Prosecution counsel told the court in Dublin of Anglo-Irish Bank's serious concern when it learnt that Sean Quinn Sr had built up a large stake in the bank using an extraordinary form of stock market gambling called contracts for difference.
Stabilise
It was a 2bn euros (£1.7bn) gamble that went wrong.
The prosecution said Anglo-Irish Bank unsuccessfully sought to dilute Mr Quinn's stake by resorting to an illegal scheme of lending bank money to 16 people to buy bank shares to stabilise the situation in July 2008.
During the opening day of the trial, defence lawyers for Mr FitzPatrick and Mr Whelan said the two men would make some admissions.
The trial is expected to last at least three months and the list of potential witnesses include all the members of the Quinn family and the former financial regulator.