Kercher judge under investigation for Italy press remarks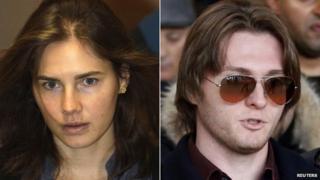 The judge who reinstated the murder convictions of Amanda Knox and Rafaelle Sollecito could face disciplinary action over an interview in the Italian press.
Italy's justice minister has ordered an investigation into comments made by Alessandro Nencini after the verdict.
Mr Nencini was quoted as saying that Sollecito's decision not to testify in court may have worked against him.
Sollecito's lawyers accused the judge of bias - a charge he denied.
They said his remarks represented a serious breach and could cast into doubt the decision itself.
'Misunderstanding'
Last week's verdict overturned the successful 2011 appeal by Knox and Sollecito against their convictions over the murder of British student Meredith Kercher.
Sollecito received a 25-year prison sentence while his ex-girlfriend Knox - who is currently in the US - was sentenced to 28 years and six months.
Mr Nencini's comments, published in several Italian newspapers, came before the court issued its full reasoning, which in Italy must be published within 90 days of a verdict.
But he appeared to hint at its content, indicating that Sollecito's decision not to be questioned in court might have influenced the outcome.
"The ability not to be heard in a trial is a right, but it deprives the subject of a voice," il Messaggero quoted Mr Nencini as saying.
Justice Minister Anna Maria Cancellieri ordered an "initial investigation" into the comments on Monday.
Mr Nencini denied expressing an opinion on Sollecito's defence strategy.
"If my words generated a misunderstanding about the absolute legitimacy of the choice of a defendant to make voluntary statements, I regret it," ANSA news agency quoted him as saying.
Lawyers for both Knox and Sollecito have said they will appeal to the supreme Court of Cassation.
Miss Kercher, 21, from Coulsdon in south London, was stabbed to death in the flat she shared with Knox in the college city of Perugia.
Knox and Sollecito, 29, were jailed for her murder in 2009, but the verdicts were overturned in 2011 and the pair were freed.
In Italy, verdicts are not considered final until they are confirmed, usually by the Court of Cassation.