Ukraine crisis: Opposition MPs seek to curb president's powers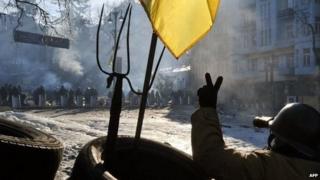 Ukraine's MPs are continuing crisis talks to try to change the constitution - a move aimed at curtailing the powers of President Viktor Yanukovych.
This is a key demand by the opposition, who has warned that parliament's failure to act now will further inflame mass anti-government protests.
Pro-presidential MPs oppose the move, and the speaker has given until Wednesday morning to find a compromise.
Kiev's decision to reject an EU deal in November triggered the protests.
At least six people have died in violence since then, and a number of Ukrainian politicians have warned that the country might plunge into civil war.
'Stop dictatorship'
The opposition is pushing for a return to the 2004 constitution, which would mean President Yanukovych losing some of the powers he has gained since his election in 2010.
The changes envisage that parliament - not the president - will be appointing the prime minister and cabinet members as well as regional governors.
There were emotional scenes earlier on Tuesday and MPs began debating the issue.
"I call on everyone to take the constitutional route and stop dictatorship," the leader of the opposition Udar (Punch) Party and former world heavyweight boxing champion, Vitaliy Klitschko, told parliament.
"Let us reinstate the constitution that allows MPs to take decisions instead of just pushing buttons."
Mr Klitschko also stressed that snap presidential elections were crucial to regain the trust of the people.
But the leader of President Yanukovych's Regions Party in parliament, Oleksandr Yefremov, accused the opposition of being irresponsible.
"They (opposition leaders) are fighting not for what people want, but for power," he said in a speech delivered amid shouting.
"Ukraine is going through perhaps the most dramatic period in its recent history. Any further escalation of the conflict may lead to civil confrontation and result in catastrophic consequences," he added.
At one point during the proceedings, some opposition MPs shouted "murderers!".
They were referring to the death of protesters over recent weeks as anti-government activists clashed with riot police.
Protesters blame the government for the deaths, but officials reject these accusations.
Later on Tuesday, the speaker of parliament, Volodymyr Rybak, gave lawmakers until 10:00 local time on Wednesday (08:00 GMT) to try to find a compromise on the constitutional changes.
Marshall plan plea
However, correspondents say party allegiances have been fluid and it is unclear if the opposition can rally a majority in parliament over the issue.
Mass unrest began when President Yanukovych abandoned an association and free trade deal with the EU in favour of closer ties with Russia.
Thousands of people remain encamped in Kiev's heavily fortified Independence Square - widely known as the Euromaidan. Protesters in the capital and in a number of Ukraine's regions have also occupied some government buildings.
Under pressure from the opposition, Mr Yanukovych last week scrapped anti-protest laws and accepted the resignation of Prime Minister Mykola Azarov and the cabinet.
But his opponents want him to resign before the end of his mandate in 2015 and to call early elections.
EU foreign policy chief Catherine Ashton will return to Kiev on Tuesday and US Assistant Secretary of State Victoria Nuland is due to visit later this week.
Their visits come after Arseniy Yatsenyuk, one of the leaders of the Fatherland opposition party, asked for a "Marshall Plan" for Ukraine - a reference to the US aid package for Europe after World War Two.
The US state department said Washington and Brussels were in preliminary discussions on financial help for Ukraine if a new, technocrat government was formed.
Moscow, which has conditionally offered a $15bn (£9bn) aid package to Ukraine, has criticised the EU and other Western countries for intervening in the dispute.