Ukraine President Yanukovych condemns protest 'extremism'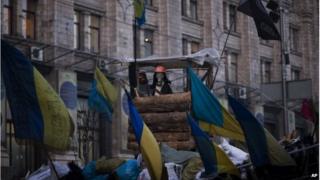 Ukraine's President Viktor Yanukovych has said the country is facing "extremism" and "a struggle for power", amid weeks of anti-government unrest.
Mr Yanukovych was speaking as he returned from four days of sick leave. Thousands of of people remain on the streets demanding he stand down.
He has yet to name a new prime minister after Mykola Azarov resigned last week.
The US has meanwhile confirmed it is in discussions with the EU about a possible aid package for Ukraine.
State department spokeswoman Jen Psaki said the talks were in the preliminary stages, and were looking at what financial support Ukraine might need, once a new government has been established to replace that which resigned alongside Mr Azarov last week.
Ms Psaki said discussions would be "guided by events in Ukraine and consultations with the new government after it is formed".
A spokeswoman for EU foreign policy chief Catherine Ashton said earlier that the EU was "looking at how we could support the Ukraine in the times of the crisis when it comes to the economic and political situation".
Both the EU and US said any arrangement would be conditional on Kiev enacting political reform.
European Commission President Jose Manuel Barroso earlier insisted that the EU was not going to enter into a "bidding competition" with Russia to win Ukraine's loyalty.
Russia promised a $15bn (£9bn) aid package to Ukraine last year, but has indicated the next tranche will not be given until a new government is formed.
'Hatred in society'
In his comments on Monday - this first since he took leave while suffering a fever and breathing problems on Thursday - Mr Yanukovych attacked the "extremism, radicalism and incitement to hatred in society behind which there is a struggle for power".
"The vandalism that we are seeing during the seizures of government buildings, the calls that we are hearing, they remind us of course of old history lessons. We do not want that them to be repeated," he said.
Russia's foreign ministry earlier urged Ukrainian opposition leaders to end their campaign of "ultimatums and threats" and step up negotiations with the government, saying they appeared to be instead seeking to "further inflame the situation in the country".
Ukraine's unrest began in November, when President Yanukovych backed away from a planned trade deal with the EU, and instead agreed the loan with Russia.
The move sparked large-scale protests in Kiev, which worsened and became deadly after new anti-protest laws were put in place in January. Several government buildings were taken over by protesters - some are still occupied.
Parliament has since revoked the laws and approved a bill giving amnesty to detained protesters, on condition they vacate official buildings, in an attempt to calm the arrest.
But the protesters remain on the streets - on Sunday, thousands of people joined a new rally in the centre of Kiev.
They want Mr Yanukovych to stand down and call elections and for a reform of the political system.
"The point of being in power in Ukraine for them is the corruption," one protester, Viktor Andrusiv, told the AFP news agency. "They steal money from the budget and they put it in Europe."
Parliament is due to begin a new session on Tuesday, with opposition MPs expected to push for laws which will reduce the power of the president.
Arseny Yatsenyuk, leader of the largest opposition party Fatherland, said a return to the 2004 constitution would "cancel the dictatorial authority of the president and transfer the right of governing the country to the Ukrainian people".