Slovenia ice storm cuts power for thousands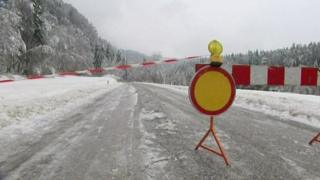 Blizzards in Slovenia have left one in four homes without power, with heavy snow and ice bringing down electricity lines and trees.
South-western areas have been hardest hit and the government has spoken of a large-scale natural disaster.
Some 250,000 people have been affected by the extreme weather which began on Friday.
The severe conditions have also hit Croatia and Serbia, where hundreds of people have been rescued from the snow.
On Monday, Serbian police began removing lorries which had been stuck for days on the main road between Novi Sad and the northern town of Subotica.
Forests damaged
A Slovenian request for help prompted Austria, Germany and the Czech Republic to send emergency generators, the European Union says.
Some areas around Postojna, 40km (24 miles) south of the capital, Ljubljana, have been without electricity for four days and the armed forces have been brought in to help restore power.
By Monday, about 120,000 households in the small Alpine nation of two million people were still waiting for power to be restored and 40% of schools were closed.
"We estimate that some 500 tonnes of steel, cables and electricity posts remain on the ground," said Defence Minister Roman Jakic.
Almost half the country's forests were said to have been damaged by ice.
On Sunday, the main road from the capital to the Adriatic coast was closed when power lines collapsed.
The Slovenian government asked for foreign help under the EU civil protection mechanism and the EU said that technical experts as well as generators were being offered.