Turkey police tried in Kayseri over protester death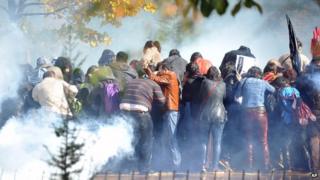 Four policemen have gone on trial in Turkey over the death of a 19-year-old student during anti-government protests that rocked the country last year.
They are among eight men charged with the premeditated murder of Ali Ismail Korkmaz in Eskisehir on 2 June.
Some 2,000 riot police were deployed across the central city of Kayseri, where the trial is taking place.
Authorities were accused by rights groups for using heavy-handed tactics to quell last summer's protests.
The unrest began in May 2013 as a protest to stop the redevelopment of Istanbul's Taksim Square and Gezi Park.
But after a harsh crackdown by riot police, it snowballed into nationwide anti-government demonstrations that lasted for weeks.
Security clampdown
Mr Korkmaz was one of six people to die in the protests after he was beaten with baseball bats and truncheons while trying to escape police at a demonstration in the western town of Eskisehir.
The attack, which was recorded by security cameras, left the student in a coma for 38 days before he died of a brain haemorrhage on 10 July.
The high-profile case is the second involving police officers to come to trial in connection with last year's violent protests.
Clashes erupted in October during the trial of a policeman accused of shooting dead a demonstrator in Ankara in June.
Police have taken extensive measures to tighten security in Kayseri, with reports of road blocks leading to the courthouse and a ban on demonstrations.
The authorities decided to move the trial there, some 350 miles (560km) east of Eskisehir, in a bid to avoid further unrest.
In the courtroom, the victim's mother shouted at the defendants and displayed a photo of the son.
But several buses carrying protesters were prevented from entering the city, according to activists.
Some protest buses tried to evade police cordons, Hurriyet newspaper reports, by posting signs in the front windows saying they belonged to a humanitarian organisation and Turkey's national spy agency.
The first trial involving anti-government protesters is due to start later this year, with over 250 people expected to be tried on "terrorism" charges.