Ukraine rally in Maidan targets Yanukovych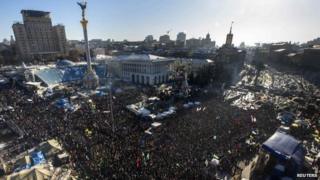 Thousands of Ukrainian protesters have gathered in Kiev's Maidan square to demand that the president steps down.
Opposition leader Vitali Klitschko told the crowd President Viktor Yanukovych's resignation followed by an election was the only way out of the crisis.
The president, who has been on sick leave, will return to work on Monday.
Ukraine has been in turmoil since November, when Mr Yanukovych ditched a co-operation deal with the EU in favour of stronger ties with Russia.
Massive groups of protesters have been camped out around Kiev, demanding he resigns from office.
His cabinet and prime minister have stepped down, and he has offered ministerial posts to the opposition, but the protesters have not been placated.
On Sunday Mr Klitschko told supporters in Kiev: "The crisis will end when, under the auspices of the international community, we hold new elections that will stop the regime of Yanukovych.
"We will show this government that there are millions of us we are not afraid and we will win."
Mr Klitschko has just been to Munich for a security conference, where Western powers gave their support to the pro-EU protests.
European Council President Herman Van Rompuy said the "future of Ukraine belongs with the EU".
US Secretary of State John Kerry said Mr Yanukovych's concessions had not gone far enough, adding that the US backed Ukraine's "fight for democracy".
The White House has confirmed it is discussing possible sanctions against Ukraine with the US Congress.
However, Russian Foreign Minister Sergei Lavrov accused Western countries of double standards, questioning how they would react if they faced such protests at home.
There have been several incidents of protesters and journalists claiming to have been kidnapped and beaten by security forces.
On Sunday, a Russian blogger who had been covering the protests said he and his cameraman had been snatched, beaten and told to go back to Russia.