Maggie Farrelly to make history at men's GAA match in Croke Park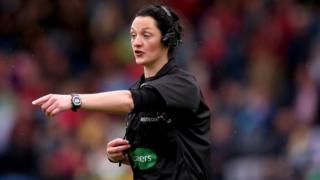 A Gaelic Athletic Association (GAA) referee is set to become the first woman to officiate at a men's senior inter-county match at GAA headquarters.
Maggie Farrelly, from County Cavan, will be a sideline official when Dublin play Kerry in Croke Park on Saturday.
"It's a great honour and something that you can only dream about, especially because the game is in Croke Park of all places," Ms Farrelly told GAA.ie.
"It's such a special place for GAA people," she added.
She has officiated in the men's game for the past seven years, having first agreed to help out in 2006 as there was a shortage of referees in County Cavan.
However, Saturday's match will be the first time she has been involved in a senior men's fixture on the biggest stage in her sport - Croke Park stadium in Dublin.
Farrelly has a degree in sports development and coaching, and in 2011 she graduated as a qualified referee from the GAA's Ulster Referees Academy.
She also plays GAA football for Glenfin in Donegal and camogie with her home club Laragh United in County Cavan.
The GAA was founded in the late 19th Century and is the largest sporting organisation on the island of Ireland.