France-UK effort against young Syria-bound Islamists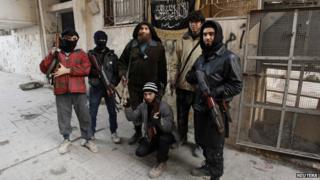 France and the UK will work together to prevent young Muslims travelling to Syria for jihadist fighting, French President Francois Hollande says.
He was speaking at a news conference after talks with UK Prime Minister David Cameron in Oxfordshire.
"We are going to set up co-operation to avoid young people being affected by this propaganda and to monitor their comings and goings," he said.
There are fears that conflict veterans could launch terror attacks in the UK.
British police have arrested at least 16 people, who are alleged to have travelled between Syria and the UK, on suspicion of terror offences. Last year there were 24 such arrests.
Mr Hollande said that between 600 and 700 Britons or UK residents had travelled to Syria to fight in the conflict which began in March 2011.
UK intelligence officials have previously put the total in the "lower hundreds" and government sources on Friday disputed the number, the Press Association reports.
Militants with suspected links to al-Qaeda have been heading to war-torn Syria from many countries since fighting broke out in 2011.