Goldman investment sparks political row in Denmark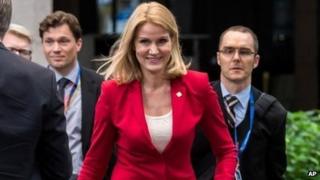 Grassroots opposition has caused a political storm in Denmark over plans to sell part of a state-owned energy company to Goldman Sachs.
Opponents are continuing to sign an online petition, which has collected nearly 200,000 signatures.
The governing coalition of PM Helle Thorning-Schmidt has been undermined by the row over Dong Energy, with the Socialists leaving the government.
Recent events are being likened to the hit Danish political TV drama Borgen.
State-run Dong Energy has been struggling since plans for privatisation were aborted in 2008, and it needed an injection of capital.
The centre-left government is selling a 19% stake to a consortium including Danish pension funds and led by US investment bank Goldman Sachs.
But the plans, given the final seal of approval by parliament's finance committee on Thursday, led to mounting public opposition to what is seen as handing state assets to a private consortium.
The Socialist People's Party, one of three parties in Mrs Thorning-Schmidt's coalition, is split over the issue.
Its leader, Annette Vilhelmsen, backed the plans but quit as chairwoman and pulled the party out of the government on Thursday, in the face of internal opposition.
Many are concerned that Goldman Sachs will have too great a say over who controls Dong Energy and future mergers and acquisitions.
Despite leaving the government, the Socialists say they will continue to support it on other issues and the administration is expected to survive.
Mrs Thorning-Schmidt has said there will be a ministerial reshuffle soon.
"I expect that the Socialist People's Party and the government will continue to have a close and confidential co-operation," she said.
However, political commentators say the defection of the Socialists has weakened her administration, which came to power in 2011 and now consists of the Social Democrats and the Social Liberal Party.
The leader of the opposition, Lars Lokke Rasmussen, compared developments to the hugely successful Danish TV drama Borgen, which stars a female prime minister struggling to keep her coalition together.
Mr Rasmussen said that the government was in huge trouble and Borgen's scriptwriters could not have provided a more dramatic plot.