Russia names Volgograd bombers as arrests continue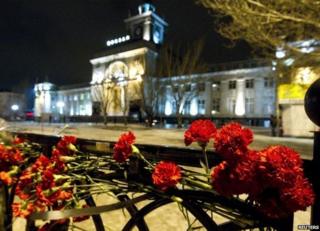 Two suicide bombers who killed 34 people in the south Russian city of Volgograd have been identified as Islamist militants based in Dagestan.
Russia's National Anti-Terrorist Committee (NAK) said Asker Samedov and Suleyman Magomedov were members of a group based in the town of Buynaksk.
Two men suspected of helping them have been arrested in Dagestan, it added.
The bomb attacks on Volgograd's railway station and a trolleybus just before New Year shook Russia.
A massive operation was launched shortly afterwards to provide security for the Winter Olympic Games, which open in the Russian city of Sochi next week, close to the volatile North Caucasus region.
A video posted online on 19 January by a group calling itself Vilayat Dagestan showed what appear to be the two bombers donning explosive belts and brandishing guns.
The two men warn President Vladimir Putin to expect a "present" at the Olympics.
'Accomplices'
On Sunday 29 December, as Russians were preparing for the New Year holiday, one of the suicide bombers detonated his explosives near a metal detector at the entrance to the railway station, killing 18 people.
According to Russia's Komsomolskaya Pravda newspaper, Samedov carried out the station bombing.
The following morning, the second bomber blew himself up in a trolleybus, killing 10 people outright and mortally wounding six.
More than 60 other people were injured in the attacks.
The NAK said the identities of the dead bombers had been established earlier but not released "for operational reasons".
Two brothers were arrested in Dagestan on Thursday on suspicion of helping the bombers get to Volgograd, the NAK said.
Since the bombings in Dagestan, a number of security operations against Islamist militants in Dagestan have ended in bloodshed. A low-level insurgency has troubled the region bordering Chechnya for years.