France Hollande: Trierweiler reveals shock of affair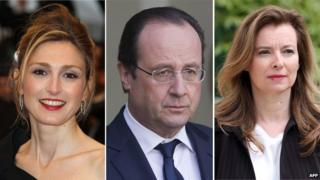 Valerie Trierweiler, France's former first lady, has said that hearing news of President Francois Hollande's affair was like falling from a skyscraper.
She said in an interview she had refused to believe reports of the affair until she saw it in gossip magazine Closer, which printed photos.
Mr Hollande said on Saturday he had "put an end" to his "shared life" with Ms Trierweiler, his unmarried partner.
Opposition politicians have accused him of callousness and egotism.
The French leader, 59, has neither confirmed nor denied the report in Closer on 10 January that he was having an affair with actress Julie Gayet, 41.
Ms Trierweiler, 48, was admitted to hospital shortly after news of the report and had been living at a presidential retreat in Versailles since her release.
Hours after the Socialist president announced he had left her, her presidential Twitter account was shut down, while her page on the French presidential website was no longer active on Monday.
Text messages
Speaking to Paris Match, the French magazine for which she works as a journalist, Ms Trierweiler said: "When I found out, it was like I'd fallen from a skyscraper."
"Clearly I had heard the rumours but you heard [rumours] about everyone. I hear them about myself too, all of the time. I paid no attention to them."
Ms Trierweiler, who has been divorced twice, said she was not "undergoing a period of crisis".
"It's not the first break-up in my life," she said. "This one was violent because of the media attention."
Telling the magazine she had no regrets, she said she planned to take up her previous life, "enriched by a new experience".
Ms Trierweiler moved in with Francois Hollande after his official separation from Segolene Royal, the unmarried mother of his four children, in 2007. Ms Trierweiler has three children of her own by her last husband.
Speaking separately to another French weekly, Le Parisien Magazine, Ms Trierweiler said she and Mr Hollande had exchanged text messages after his announcement of their break-up because of his concern for her health.
'An oaf'
Nathalie Kosciusko-Morizet, a leading figure in France's main centre-right party the UMP, has predicted that women voters will not quickly forget the dry manner in which the president announced their separation.
"I felt like I was reading a sacking letter rather than a break-up one," the candidate for mayor of Paris said.
For Jean-Luc Melenchon, the leader of the radical Party of the Left who came fourth in the first round of the 2012 presidential election: "His statement was that of an oaf. You just have to read it... me, me, me."
But Harlem Desir, the Socialist Party's first secretary, insisted Mr Hollande was "a very human and very sensitive character".
"He expressed himself with a certain restraint and discretion because he did not want the tempo of the debate to be dictated by gossip magazines," he suggested.
Ms Gayet has been keeping a very low profile, AFP news agency notes, although friends have been quoted in the media as saying she has no intention of trying to become the next first lady.