Channel Tunnel: More workers fall ill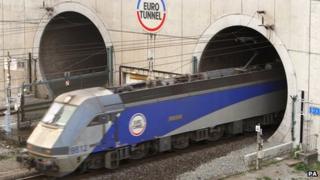 A further 13 workers have suffered suspected carbon monoxide poisoning while working overnight in the Channel Tunnel, making 32 in two nights.
The 13 were taken to hospital in France after working overnight to replace track, following 19 the previous night.
Although carbon monoxide poisoning is the suspected cause, operator Eurotunnel says it has not detected excessive levels.
Tunnel traffic has not been interrupted by the health scare.
Some 60 workers have been changing rail tracks on the line between Calais, France, and Folkestone, UK.
In the early hours of Sunday 19 people were taken ill.
One, a welder, was said to be in serious condition and carbon monoxide poisoning was later diagnosed.
The victims were sent to local French hospitals to give them "the time needed to remove the carbon monoxide from their system", an official said, adding their condition was not a cause for concern.
An investigation has been launched into the cause of the incidents.
"We are trying to understand what is happening," the French newspaper Figaro quoted Eurotunnel as saying. "Is it caused by a defective machine?"
The company said there were 20,000 sensors in the tunnel to detect the level of carbon monoxide.