Pope John Paul ll relic stolen from chapel in Italy
By Alan Johnston
BBC News, Rome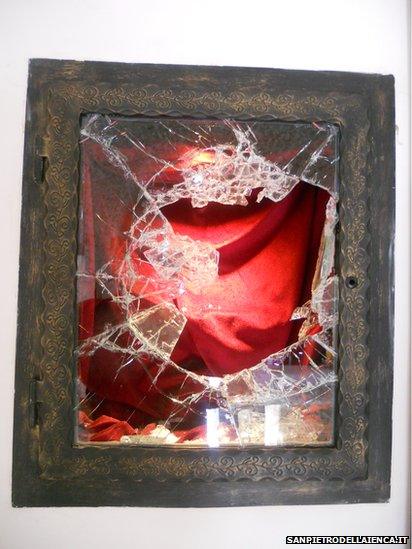 Italian police are hunting for a stolen holy relic that contains the blood of Pope John Paul ll.
It appears to have been taken during the burglary of a small chapel that was a place of special significance to the late Pope.
The church of San Pietro della Ienca lies in an isolated spot in the mountains of central Abruzzo region.
Over the weekend, thieves broke some protective iron bars and forced their way in through a window.
They left the collection box, but took a crucifix and the priceless relic, which contains a piece of gauze once soaked in the blood of the late Pope - one of only three such relics in the world.
Members of the local cultural association supporting the chapel are distraught.
"We are very displeased by the theft. We have no idea of who could have done it. The police are carrying out a search," said Franca Corrieri, a member of the association, speaking to the BBC.
The Pope used to escape the pressures of life in the Vatican by coming to the mountains.
"This is an area that John Paul II visited often, with his secretary and not too many bodyguards. We feel very connected to him. After his death, his secretary, Cardinal Stanislaw Dziwisz, came and told us that he wanted this church to become a sanctuary," said Ms Corrieri.
Dozens of police officers are now searching the area with sniffer dogs.