Ukraine: President Yanukovych blinks first over protests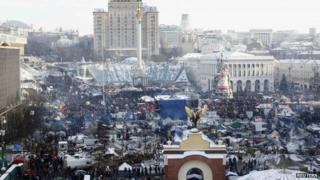 Ukraine's opposition leaders have apparently interpreted President Viktor Yanukovych's latest offers of significant concessions, including top positions in the government, as a sign of weakness and are forging ahead with their campaign to unseat him.
Their plan may indeed work. But if it doesn't, it could spell disaster for them, their supporters and the country as a whole.
Both sides are playing a game of attrition, but the three opposition heads - at least at the moment - appear to have the upper hand.
Their activists have taken their battle beyond Kiev to government offices in over half of the country. And their camps and barricades in central Kiev can only be dislodged after a brutal and bloody struggle.
They also seem to have taken a page from Mr Yanukovych's playbook.
For weeks, the president was the one who wasn't answering the telephone, so to speak - refusing categorically to listen to the protesters' demands.
But as of Saturday night, Mr Yanukovych has officially blinked.
Issues that weren't on the table at the beginning of the standoff - a new constitution, early elections, Prime Minister Mykola Azarov's resignation, even Yulia Tymoshenko's release - are suddenly under consideration.
And now these proposals have been made, it's the opposition leaders who are sitting back and thinking it over.
"We're not throwing the proposal out, but we're not accepting it either," said Arseniy Yatseniuk about the possibility of accepting the reins of government.
Of course, all this could change in a heartbeat.
Mr Yanukovych seems to be hoping that the longer the political manoeuvrings drag on - the negotiations, parliament votes and the political jockeying that would follow if Arseniy Yatseniuk became prime minister - the more air will escape from the protest movement.
He also could be trying to split the opposition.
The far-right leader Oleh Tyahnybok was noticeably not offered a government position.
Boxer-turned-politician Vitaly Klitschko was slated to become deputy prime minister for humanitarian questions, a position considerably less prestigious than Mr Yatseniuk's.
Or Mr Yanukovych wants to decapitate the Euromaidan movement.
The opposition leaders are already treading on tissue-thin ice with the demonstrators.
As Mr Yatseniuk spoke, many screamed at him "Shame!" when he said that negotiations with the president would continue.
"This is what we've frozen for, the last two months on the Maidan?" said Vitaly, a pensioner. "They should say to Yanukovych, 'You have four hours to get on a plane and leave.'"
It is also possible that the president's proposals are not sincere.
But if they are, then this is a watershed moment: Mr Yanukovych is prepared to forfeit everything - short of his own position.
The question is whether eventually he could also give this up - or instead, with his back against the wall, would fight back like a cornered animal.