France Hollande: Valerie Trierweiler to visit India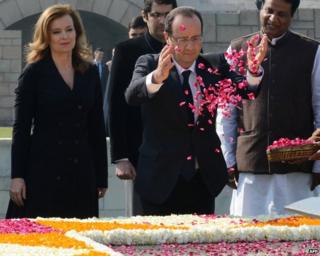 Valerie Trierweiler, officially France's first lady, is to visit India as uncertainty continues over her ties with President Francois Hollande.
Ms Trierweiler will be in Mumbai on Sunday and Monday for a visit organised and funded by a French aid agency, Action Against Hunger.
She was invited in her official capacity, AFP news agency reports.
Doubts have arisen over her status since allegations that Mr Hollande was having an affair emerged.
Ms Trierweiler and Mr Hollande are unmarried.
She was admitted to hospital immediately after the allegations surfaced on 10 January in a French magazine, along with photos seeming to show him secretly meeting actress Julie Gayet.
Since leaving the clinic last Sunday, she has not commented on the allegations but has been staying at a presidential retreat in Versailles, La Lanterne.
She and Mr Hollande are scheduled to make their next official foreign visit together on 11 February, a state visit to the US.
On Friday, the French leader visited Pope Francis at the Vatican on his own.
First outing
Ms Trierweiler, 48, last visited India just under a year ago, in the company of the president, 59, when she saw a shelter for street children in the capital Delhi.
In Mumbai, she will be shown around by French actress Charlotte Valandrey, who is involved in the cause of promoting organ donations and transplants.
She will visit a slum and attend a charity gala dinner at a hotel, The Taj Mahal Palace.
According to Action Against Hunger, the visit was planned "long in advance".
"It's a way of showing that she is attached to humanitarian causes and that she will continue to take an interest in them, whatever happens in the days that come," an unnamed woman, described as a friend, told Le Parisien newspaper.
It will be Ms Trierweiler's first appearance in the public eye since before the allegations of the affair.
The announcement of the Indian trip astonished some members of staff at the Elysee Palace, Le Parisien adds.
"It's madness," one unnamed source close to the presidency was quoted as saying. "She's just out of hospital and should be resting instead."
Mr Hollande, who does not deny the reports of his affair with the 41-year-old actress, has promised to clarify Ms Trierweiler's status before the trip to America.
Since winning the 2012 presidential election for the Socialists, he has become France's least popular president of modern times, opinion polls suggest.
Dissatisfaction with his rule has focused on his failure to revive the eurozone's second-biggest economy.