Garda chief Martin Callinan in PAC legal advice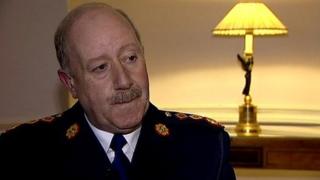 The commissioner of the Irish police (Garda) is to take legal advice over the appearances of two whistle-blowers at the Republic of Ireland's Public Accounts Committee next week.
It is investigating claims officers routinely cancel penalty point notices.
Martin Callinan said the PAC was not the proper forum for officers to make serious or criminal accusations against colleagues.
He said it would have an adverse effect on discipline within the force.
Mr Callinan defended the force's handling of the penalty point controversy and said that nobody had provided any evidence of corruption and malpractice.
The identity of the serving Garda whistle-blower was revealed at the committee on Thursday.
Garda Sgt Maurice McCabe is understood to be serving in the midlands of the Republic.
The identity of the other whistle-blower, retired officer John Wilson, had been known for some time.
Mr Callinan said he should have the opportunity to deal with this situation in advance of the pair appearing at the committee.
Discipline
He said they had limited access to information and may be misguided.
He also said that he had not seen the information that was provided to the committee.
The commissioner said this was "not about circling the wagons", but that it was about the fundamental principle of the control and discipline of An Garda Síochána.
He said these issues should be dealt with by him at other forums and that perhaps the Director of Public Prosecutions should be involved.
The commissioner also said it was "extraordinary" that just two people were making the allegations.
The Transparency International Ireland group, which provides support for Garda whistle-blowers, said Mr Callinan should withdraw the threat of legal action against the two whistle-blowers.
Its chief executive John Devitt said: "The commissioner should be aware that gardaí are legally entitled to report concerns of apparent wrongdoing within An Garda Síochána to members of the Oireachtas (Irish senate).
"It's disappointing that he is now threatening disciplinary action against a serving garda for availing of that legal right."
Discretionary powers
In his opening address on Thursday, the commissioner said the penalty point system was not a revenue generation measure and that just over 10,000 fixed charge notices are terminated every year.
That equated to two cancellations per week per Garda district, which can have up to six stations in it, or 2.6% of the 1.46 million issued, he said.
The commissioner also said that even when a penalty notice is issued, it is not mandatory that a prosecution or a payment should follow.
The use of discretionary powers had served officers well since the foundation of the state, he said.
PAC member Derek Nolan asked if it was corruption if a garda cancelled penalty points for a family member.
The commissioner said he did not expect any member of the Garda to do favours for their friends.