Inquiry calls after migrants die under tow in Greece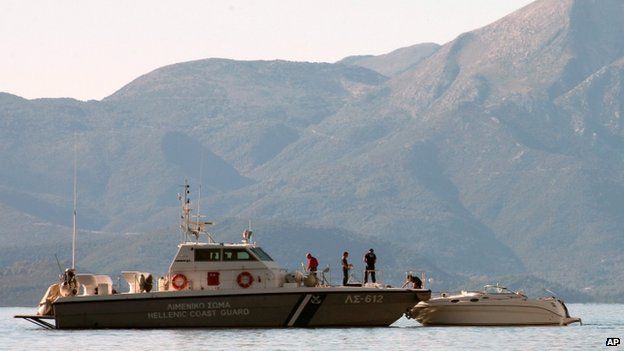 The UN has called for an inquiry after a boat carrying migrants capsized while being towed by a Greek coastguard vessel, leaving up to twelve dead.
Two bodies were found but a further 10 people were missing after the incident near the island of Farmakonisi on Monday. Sixteen people were rescued.
The coastguard says it judged it safer to keep migrants on their own boat than to take them aboard in bad weather.
Greek officials say panicking migrants caused the boat to capsize themselves.
According to reports, two migrants fell or dived overboard and others rushed to one side of the boat to rescue them, causing the boat to tip.
The deaths of a woman and a child have been confirmed.
One non-government organisation, Pro Asyl, accused the Greek authorities of trying illegally to prevent the migrants, believed to be 26 Afghans and two Syrians, landing in Greece.
"It is highly likely that this action by the Greek coastguard was an illegal push-back operation rather than a rescue at sea," said Karl Kopp, the NGO's director of European affairs.
Another NGO, Ecre, said: "Survivors tell that they were crying out for help, given that a large number of children and babies were on board."
Greece is one of the main destinations for clandestine migrants and refugees seeking to enter the EU, through its land or sea borders.
Correspondents say there has been a sharp increase in sea-borne refugee traffic over the past year because of stricter controls on the Greek-Turkish land border to the north and the ongoing war in Syria.
In a statement on Tuesday, the UN refugee agency (UNHCR) said it was "dismayed" at the events off Farmakonisi.
It quoted survivors on the island of Leros as saying the Greek coastguard had tried to tow the boat towards the Turkish coast at high speed when it capsized.
"UNHCR is urging the authorities to investigate this incident and how lives were lost on a boat that was under tow," said Laurens Jolles, its southern Europe regional representative.
"In addition survivors need to be quickly moved to the mainland so that their needs can be better looked after."
Responding to the UN on Wednesday, the Greek coastguard insisted it had been trying to tow the boat, which had broken down, to Farmakonisi - and not to Turkey - after receiving a distress signal.
It put out a fire on the stricken boat and rescued 16 people from the water, it said.
Following the disaster, a Greek helicopter searched the area, which is near the Turkish coast, for survivors.
According to a report in Greek newspaper Kathimerini, two more bodies have been found by the Turkish authorities - those of an 11-year-old child and a 38-year-old woman.
There have been persistent reports of Greek officials forcing migrants back into Turkish waters.
Pro Asyl and Ecre called for an "independent and effective investigation of the circumstances that caused such loss of life".
"The NGOs reiterate that push-backs are illegal, endanger people's lives and have to end immediately," they said in a press release.
Related Internet Links
The BBC is not responsible for the content of external sites.