Anti-mafia raids: Italian police make 90 arrests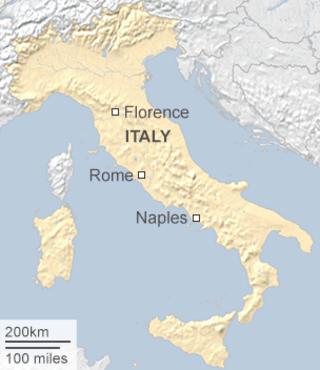 Police in Italy have made 90 arrests in a major operation against a powerful mafia group.
Assets worth well over 222m euros ($300m; £181m) were seized in pre-dawn raids targeting members of the Contini clan.
The Contini are part of the formidable crime network known as the Camorra.
The Camorra is based in the Naples area, but as well as arrests there people were detained in the capital, Rome, and in Florence.
By sunrise, police officers in Rome were standing guard at a number of bars and pizzerias believed to have been run by the Contini clan.
One of them was a popular restaurant just around the corner from the parliament buildings.
Correspondents say the arrests highlight concern in Italy about the extent to which the various mafias based in southern Italy are extending their influence north.
The arrests come just days after a triple murder in southern Italy in which a 52-year-old man, his girlfriend, and his three-year-old grandchild were found in a burnt-out car in the Calabria region.
The killings have been blamed on score-settling by local 'Ndrangheta mafia gangs, which make much of their money from drugs.