Abramovich's partner Zhukova in race row over photo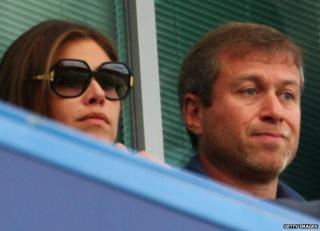 Russian oligarch Roman Abramovich's partner, fashion editor Dasha Zhukova, has apologised for a photo of her on a chair in the form of a black woman.
A Russian fashion blog published the photo along with an interview on Monday, sparking angry accusations of racism by bloggers outside Russia.
The fact it was the Martin Luther King holiday in the US fuelled indignation.
Zhukova told the Moscow Times she "utterly" abhorred racism and the image had been published "out of context".
However, the blog, Buro 24/7, has not withdrawn the offending photograph, merely cropping it so that the colour of the figure in the chair can no longer be seen (article in Russian).
Black people living in Russia, such as African students attending its universities, have long complained of racist attitudes, exacerbated by rising nationalism.
Zhukova, editor-in-chief of the fashion magazine Garage and owner of a high-profile Moscow art gallery, appears in the photo sitting barefoot in jeans and a blouse on the cushion of a chair fashioned out of a life-size sculpture of a bare-breasted black woman.
The mannequin-like figure appears to be dressed in bondage gear: stiletto-heeled black leather boots and other accessories.
'Overtly degrading'
Claire Sulmers, who edits the Fashion Bomb Daily blog, was quoted by the Huffington Post blog as saying the image was an example of "white dominance and superiority, articulated in a seemingly serene yet overtly degrading way".
Cosmopolitan's pop culture editor, Alex Rees, said on the fashion magazine's website: "I would go so far as to say that certain things (like this) just shouldn't exist.
"But if they must, so that people can feel edgy or provocative or, you know, racist, they really shouldn't be photographed and uploaded onto the Internet - and especially not on Martin Luther King, Jr Day."
Rees noted the chair resembled a 1967 sculpture, entitled Chair, by British pop artist Allen Jones, which features a white woman.
In her apology, Zhukova writes: "This photograph, which has been published completely out of context, is of an art work intended specifically as a commentary on gender and racial politics. I utterly abhor racism, and would like to apologise to anyone who has been offended by this image."
In the cropped photo now appearing above the article in Buro 24/7, where Zhukova talks about Russia's lingering "cultural isolation", only the high-heeled black leather boots can be seen.
Buro 24/7 also issued an apology, saying it was "against racism and everything that may humiliate people."
"We sincerely apologise if the posted photos insulted our readers," its editors said in a statement.