Russian forces kill seven in Dagestan siege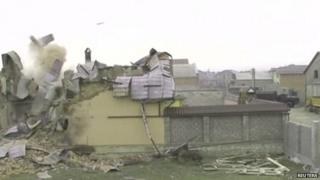 Russian security forces have killed seven people suspected of involvement in a grenade and bomb attack on a restaurant in Dagestan, officials say.
Anti-terrorism officers surrounded a house near regional capital Makhachkala and shot dead seven people.
Some reports described the dead as gang members and criminals, while others said they were Muslim militants.
Russia has sent thousands of security personnel to the region to ensure the Winter Olympics passes off peacefully.
The Games are being held in Sochi, about 600km (380 miles) west of Makhachkala.
Moscow regards Islamist militants from Dagestan and nearby republics of Ingushetia and Chechnya as a major threat to the Games.
Regional militant leader Doku Umarov had earlier promised to ramp up attacks before the Games, which are a major prestige project for the Kremlin.
And militants launched attacks in the southern city of Volgograd in December, killing at least 31 people.
Friday's unrest in Makhachkala began with a grenade attack on a restaurant, and the detonation of a car bomb when police arrived.
The Interior Ministry described it as a "criminal incident" involving rival gangs, and said about 16 people had been hurt but nobody had been killed.
Anti-terrorism officers apparently chased down gang members suspected of the attack, surrounding them in a house near the city.
The National Anti-Terrorism Committee said officers besieged the house, allowing a woman and three children to leave.
They later stormed the building and killed seven people.
The committee said a woman who was being trained to be a suicide bomber was among the dead.
Another of the dead was labelled a "convicted rapist" who had been made head of a local gang earlier in the week.