Junior certificate renamed Junior Cycle Student Award (JCSA)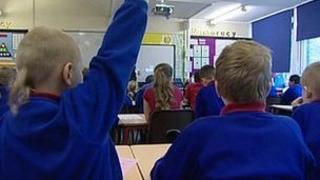 The Irish education minister has announced that the new name for the reformed Junior Certificate will be the JCSA or Junior Cycle Student Award (JCSA).
Ruairí Quinn said changes to the exam system were "long overdue and much needed".
He said the JCSA would put students, rather than exams, at the centre of the three year cycle.
It will be phased in over several years from 2014.
Mr Quinn said the JCSA would be introduced at a rate that would allow schools, students and teachers the time to "embed" the changes.
"Most parents and teachers that I meet are supportive of the need to overhaul junior cycle - for the good of students. However, I do acknowledge that many teachers have legitimate concerns about how these new changes will be introduced in schools," he said.
'Effective dialogue'
"A new working group on junior cycle reform will meet for the first time this Friday, 17 January. This working group will be a forum where the concerns of the partners can be heard and addressed over the next number of months and years.
"We have lost some time over the last few months, but I am confident that this group can provide a focus for meaningful and effective dialogue that will address legitimate concerns and enable implementation to proceed."
The group is made up of representatives from the teacher unions, the Association of Secondary Teachers, Ireland, (ASTI) and Teachers' Union of Ireland (TUI), management bodies, parents, the National Council for Curriculum and Assessment and the Department of Education and Skills.
Students in the Republic of Ireland usually begin the junior cycle at age 12 and take the junior certificate exam after three years.
Those who continue their education then enter the senior cycle, which caters for students in the 15-18 age group.
It includes an optional transition year, which follows immediately after the junior cycle.
The transitional year provides an opportunity for students to experience a wide range of educational inputs, including work experience, over the course of a year that is free from formal examinations.
During the final two years of senior cycle students take one of three programmes, each leading to a state examination: the traditional leaving certificate, the Leaving Certificate Vocational Programme (LCVP) or the Leaving Certificate Applied (LCA).