Actress linked to Hollande 'blocked from culture jury'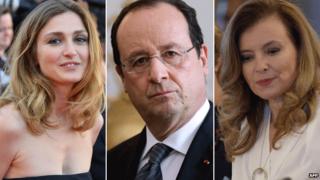 France's government has blocked the appointment of actress Julie Gayet, linked to an affair with President Francois Hollande, to a cultural jury.
The culture ministry gave no reasons for blocking Ms Gayet from the jury, which selects scholarships for Villa Medici - the French academy in Rome.
Allegations of the affair surfaced in the magazine Closer last week.
Valerie Trierweiler, Mr Hollande's partner, has been in hospital since Friday with what aides call "shock".
At a news conference on Tuesday, Mr Hollande said he was experiencing a "difficult moment" in his private life.
He refused to answer questions about the allegations, saying "private matters should be dealt with privately".
Ms Gayet has not commented publicly on the allegations.
'Not signed'
The satirical weekly Le Canard Enchaine said Ms Gayet, 41, had been proposed to the 2014 jury last month by the director of the Academy of France in Villa Medici, Eric de Chassey.
The academy's website announced her appointment on its website.
However, the office of Culture Minister Aurelie Filippetti said on Wednesday: "Her name was put forward by Eric de Chassey... but the minister has decided not to nominate her. The order has not been signed."
The unpaid jury's role is to select some 15 people to take up cultural scholarships lasting 12-18 months at the Villa Medici, located in the Villa Borghese in Rome.
The academy was founded in the 17th Century and traditionally awarded scholarships to such disciplines as painting, sculpture and architecture, though in recent years it has been broadened to include literature, film, photography and other cultural areas.
On Tuesday, Mr Hollande said it was "neither the time nor the place" to answer questions about his personal life.
He said he would not be drawn on the reports of the affairs with Ms Gayet "out of respect for those involved".
But he did say he would clarify whether Ms Trierweiler was still first lady before a trip to the US on 11 February.
Asked about her health, Mr Hollande said she was resting and that he had no further comment to make.
The president has left open the possibility of suing Closer over its report.
The French media face strict privacy laws, but the tradition of secrecy over the private lives of public figures has been steadily eroded in recent years.
Mr Hollande, who has never married, left his previous partner, fellow Socialist politician Segolene Royal, to be with Ms Trierweiler.