German's prize 45 years late thanks to secret police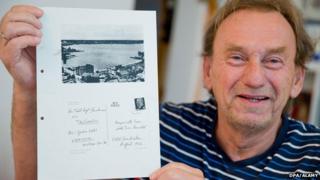 An East German who entered a West German music quiz has at last received his prize, 45 years after the Stasi secret police intervened.
Guenter Zettl completely forgot about the quiz until September 2013, when he read a file the Stasi had kept on him.
They had intercepted his postcard and kept it as evidence.
As he had got the answer right, he decided to send it to the radio station which, 45 years after the original competition, awarded him a prize.
The story began in 1969 when Mr Zettl was 18 years old, living in the small town of Waren an der Mueritz, in the former German Democratic Republic.
"I was constantly on the look out for decent music, and of course in those days the only way you could get some good music with a beat was by tuning in to Western stations," he told the BBC's Newsday programme.
But in Communist East Germany "listening to capitalist channels was of course strictly speaking illegal". Despite this, he regularly tuned in to a station called Europawelle Saar which held a weekly music quiz.
"One week they played a song which I recognised instantly - the track was Painter Man by my favourite band The Creation," says Mr Zettl, and he could not resist entering.
He wrote the answer and his details on the back of a postcard, but when he did not hear from the radio station he assumed he had not won the competition and thought nothing more of it.
Secret files
He went on to qualify as a teacher but as time passed he became increasingly critical of the East German authorities. He tried to move to West Germany a number of times and finally, in 1983, after many unsuccessful attempts his request was approved.
He started a new life and had very little contact with anyone in East Germany.
"Then about three years ago, friends of mine urged me to ask for my Stasi file," he says, referring to the former East German secret police.
"I got it last September and one of the first things I noticed was a copy of that postcard with a note saying that the confiscated original also still existed."
So he requested the original which was promptly sent to him.
"I think it says a lot about inner German history that an innocent postcard to take part in a music quiz was kept for 44 years," he says.
"Initially I thought of framing it and keeping it as my very own illustration of inner German history, but then I thought why don't I send it off to the radio station after all?"
Nearly half a century after the original competition, Europawelle Saar decided that Mr Zettl should be rewarded.
At the station's 50th anniversary celebration this week he was finally given the record he tried to win 1969 - the presenter of the original show found a copy of Painter Man in his own personal collection and gave it to Mr Zettl.
Guenter Zettl spoke to Newsday on the BBC World Service.