France's Michel Barnier aims to head EU Commission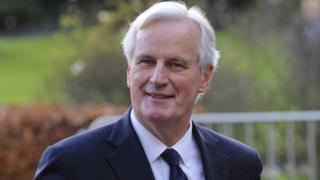 The French politician steering the EU's banking reforms, Michel Barnier, says he is ready to run for the post of European Commission president after the European elections in May.
The main centre-right bloc, the European People's Party (EPP), would first have to nominate Mr Barnier, the EU's internal market commissioner.
Portuguese conservative Jose Manuel Barroso currently heads the Commission.
A veteran of EU politics, Jean-Claude Juncker, also wants Mr Barroso's job.
Mr Barroso has already served two five-year terms and is set to step down in November.
The Commission drafts EU laws and enforces compliance with EU treaties. During the eurozone crisis its powers have grown, so it now scrutinises national budgets and issues economic guidelines.
The French daily Le Figaro asked Mr Barnier if he could confirm his candidacy, and he replied: "If I am chosen by the European People's Party, I am ready to commit myself".
The centre-left bloc in the European Parliament, the Socialists and Democrats (S&D), has nominated German MEP Martin Schulz, currently president of the parliament.
Voter influence
Under Lisbon Treaty rules, the EU government leaders - jointly called the European Council - have to take account of the European election results when choosing a candidate to head the Commission. That is set to happen in June.
Mr Barnier's ambitions depend on how well the centre-right parties do in the May election.
French newspaper Le Figaro asked him to sketch the Commission's next priorities. He said the current Commission had been preoccupied with crisis management, but "the next five years must allow Europe to take the initiative: industrial strategy, infrastructure policy, the single market, security, immigration.
"Those are the areas where the Commission must set the common European interest free and act as a stimulus."
German media report that German Chancellor Angela Merkel, seen as the most powerful leader in the eurozone, is not keen on Mr Juncker becoming Commission president, though her stance has not been confirmed officially.
Mr Juncker previously served as head of the Eurogroup - the eurozone finance ministers - and prime minister of Luxembourg.
The Irish Prime Minister (Taoiseach), Enda Kenny, and his Polish counterpart Donald Tusk are also seen as potential EPP candidates for the Commission presidency.
The newly elected parliament will still have to vote on the Council's choice for Commission president. An absolute majority of the 751 MEPs is required to confirm the nominee.
Next month the liberal ALDE bloc, the third biggest group in the European Parliament, will select its candidate for Commission president. The frontrunners are the EU Economic Affairs Commissioner Olli Rehn and ALDE leader Guy Verhofstadt, a veteran of EU politics and former Belgian prime minister.