France's Hollande bids for relaunch amid Trierweiler scandal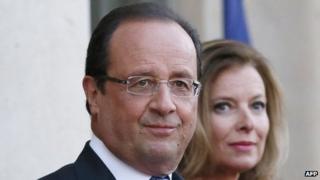 French President Francois Hollande is holding a news conference outlining plans for the economy.
Mr Hollande said the economic crisis had been long and profound and that France must regain its former strength.
However, he is also expected to face questions from journalists on recent allegations about his private life.
A magazine has alleged he was having an affair with film actress Julie Gayet. Mr Hollande did not deny the report but said his privacy had been invaded.
His partner Valerie Trierweiler is in hospital suffering from "shock" over the revelations, her aides say.
She was admitted on Friday and is expected to remain in hospital for a few days.
The news conference is a long-planned event aimed at unveiling policies to help France's struggling economy.
Mr Hollande outlined ideas to combat unemployment - a key pledge in his campaign.
He promised to slash 50bn euros (£41.5bn) in public spending over the next three years.
The president said that France must produce "more and better" by easing the tax burden on companies.
He gave more details on a proposed "responsibility pact" that would introduce tax cuts for firms in return for a commitment to hire more workers.
The French economy shrank in the third quarter of last year, reflecting a period of low growth as well as two recessions in the past five years.
Figures from October showed that 3.27 million people were out of work - 10.3% of the workforce.
That represented a sharp rise from August 2012, when unemployment went over three million.
'Recovering from shock'
There is a public interest in the infidelity allegations by Closer where they relate to Ms Trierweiler's status as first lady.
She has an office in the Elysee Palace with six staff, which is supported by public money.
However, while there may be one or two questions about the president's private life, Mr Hollande is likely to have a prepared response and the conference will quickly move on to the economy, says the BBC's Hugh Schofield in Paris.
The foreign press are likely to be much more interested in the affair than their domestic counterparts, he adds.
Axelle Lemaire, an MP from Mr Hollande's Socialist party, told the BBC she did not want to see "politics run by celebrity magazines".
"I'm sorry to say I think this is a very British way of seeing things. What is important is the announcement he's going to make this afternoon... [concerning] the economy, investment, the fight against unemployment."
However, sales of the issue of Closer containing the allegations were 50% higher than normal, according to the magazine's publishers.
The president and Ms Trierweiler have been together since 2007.
On Monday, one of her aides told Europe 1 radio: "The doctors will determine when she can be dismissed from hospital. She needs to recover from the shock she has suffered."
The French media face strict privacy laws, but the tradition of secrecy over the private lives of public figures has been steadily eroded in recent years.
On Friday, Closer printed a seven-page article about the alleged affair between Mr Hollande and Ms Gayet.
It was illustrated with photos showing a man said to be the president visiting a flat near the Elysee Palace at the same time as Ms Gayet.
Mr Hollande, who has never married, left his previous partner, fellow Socialist politician Segolene Royal, to be with Ms Trierweiler.
The scandal comes at a difficult time for Mr Hollande, with opinion polls already suggesting he is one of the most unpopular French presidents ever.