Oslo's rapid growth redefines Nordic identity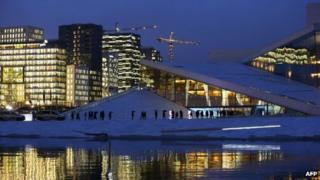 Oslo's image is one of Viking history, snowy forests and fish and oil industries.
But Norway's largest city is Europe's fastest-growing capital and it is undergoing its biggest and most controversial makeover since the 17th Century.
Nowhere is Oslo's redevelopment more obvious than from the top of Norway's national opera house.
The gleaming marble and glass building opened in 2008, amidst rows over its contemporary design and a $835m (£424m) price tag.
But with free public access to its sloping roof, it became a popular attraction, offering panoramic views of the capital's mountains and the Oslo fjord.
In 2014, the skyline on show is changing rapidly. From one side you can see a row of shiny skyscrapers lined up like vertical stripes, known as the Barcode.
Turn 90 degrees and there are construction workers building high-rise apartments, and replacing old roads with underground tunnels.
"A few years ago we had a flat city with just a few church spires," says Geir Haaversen, the lead architect behind the Barcode.
"We've had to adapt our ideas simply because there are so many more people living and working in Oslo.
"Trees are sacred here - Norwegians love going into the countryside - so the only option is to make the city denser and build upwards."
Wealth and wellbeing
Oslo's population growth has exceeded 2% in recent years and the number of residents is expected to rise from 624,000 in 2013 to 832,000 in the 2040s, according to Statistics Norway.
The shift is partly a result of a rising birth rate alongside longer life expectancy. There has also been record immigration.
Norway has attracted a stream of newcomers since the late 1960s, when the discovery of North Sea oil started to make the country one of the world's richest.
These days, Poland and Latvia provide the largest proportion of new immigrants and growing numbers of people from troubled economies in southern Europe are also making the move.
"I earn three times as much as I did back home and that's before you include the tips," says Vasco Raposo, 23, who moved here in October 2012 and manages a bar in the city.
"Society is set up here so that nobody is really poor, no matter what job you do. I miss the sunshine but it's a decent trade-off," he says.
Norway has led the global rankings for wealth and wellbeing for five years in a row, according the Legatum Prosperity Index, which ranks 110 nations.
With 100,000 new homes planned for the capital over the next 15 years it's no surprise that many of the immigrants making the move north are builders and designers.
Norway was recently voted the best place in the world for young architects to find work.
"Some weeks we can get hundreds of applications," says architect Geir Haaversen, "We barely have time to read all the resumes."
Luxury living
A six-minute tram ride from the opera house is the city's most luxurious new suburb, Tjuvholmen, or Thief Island.
Robbers used to be hanged here in the 18th Century; private developers moved in a few years ago after the area became an industrial wasteland.
The Astrup Fearnley Museum for modern art relocated here in 2012; a sail-shaped building designed by Renzo Piano, the Italian architect who was behind Paris' iconic Centre Georges Pompidou and London skyscraper The Shard.
Opposite, sits the first five-star hotel to be built in Oslo for more than 100 years, owned by one of the country's richest billionaires, CEO Petter Stordalen.
"We are part of the changing face of Oslo," he says as we meet in the hotel's dark lobby, filled with velvet sofas and international art.
"The city isn't just about fish and oil any more. We are becoming an architectural superpower and a destination for culture and business. Anyone who visited 10 years ago will be in for a shock if they return."
Identity crisis?
But Oslo's rapid redevelopment has led to strong criticism from some quarters.
One poll in Norway's Aftenposten newspaper suggested that 71% of the population was opposed to the Barcode skyscraper project.
"We have all these new high-rise buildings which stand out and are perhaps iconic, but the designers haven't thought enough about making a better city for the typical inhabitants," says Lars Roede, an architectural historian and former director of Oslo City Museum.
He argues that his capital is in danger of losing its Nordic identity.
"You could say that we've had more money than sense and ended up destroying the townscape that we are accustomed to and that we love."
For others, the debate surrounding Oslo's changing image taps into wider political arguments about Norway's increasingly multicultural population.
Two years after Anders Behring Breivik killed 77 people in Oslo and on the island of Utoya, the anti-immigration party he used to support entered government, as part of a coalition under new Conservative Prime Minister Erna Solberg.
"The majority of immigrants live in eastern Oslo where white faces are in the minority," explains one Norwegian taxi driver who does not want to be named.
"The smart buildings are mostly in the rich areas. They are a symbol of the growing wealth gap and a lack of assimilation. I worry that we could one day see the kind of riots they've had in Stockholm and Paris," he says.
Geir Haaverson insists creating a more integrated city is a key goal for planners and architects.
His company has won six competitions in a row to design new developments, including several in the east of the city.
The team focuses on including "social spaces" like squares and playgrounds where different nationalities can interact, along with green areas that embody "the Norwegian love of nature".
"Oslo can use this growth to become better or worse. It's an opportunity," he says.
"I'm confident that we are starting to put Oslo on the front pages for all the right reasons."