French First Lady Valerie Trierweiler extends hospital stay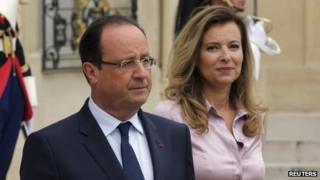 French First Lady Valerie Trierweiler is to remain in hospital, where she has been since a magazine accused President Francois Hollande of having an affair.
She had been expected to leave hospital on Monday, but her aides said doctors had told her she needed more rest.
She went to hospital on Friday shortly after Closer magazine alleged Mr Hollande was having an affair with film actress Julie Gayet.
Mr Hollande did not deny the report but protested at invasion of his privacy.
The president and Ms Trierweiler have been together since 2007.
A presidential news conference scheduled for Tuesday on plans to boost the flagging economy now looks likely to be overshadowed by Mr Hollande's private life, correspondents say.
Opinion polls already suggest he is one of the most unpopular French presidents ever.
Aides of Ms Trierweiler, who is Mr Hollande's official partner and lives at the Elysee Palace, said she went to hospital on Friday for "rest and some tests".
On Monday, an aide told Europe 1 broadcaster: "The doctors will determine when she can be dismissed from hospital. She needs to recover from the shock she has suffered."
Le Parisien newspaper quoted one of her friends as saying she is willing to forgive Mr Hollande, but wants to know about his intentions as soon as possible.
The French media face strict privacy laws, but the tradition of secrecy over the private lives of public figures has been steadily eroded in recent years.
On Friday, Closer magazine printed a seven-page article about the alleged affair between Mr Hollande and Ms Gayet.
It was illustrated with photos showing a man said to be the president visiting a flat near the Elysee Palace at the same time as Ms Gayet.
Mr Hollande, who has never married, left his previous partner, fellow Socialist politician Segolene Royal, to be with Ms Trierweiler.