Three-year-old boy dies in lift incident in Galway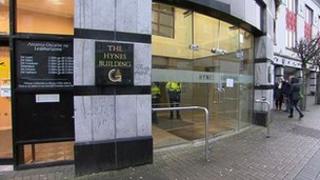 The Irish Health and Safety Authority (HSA) has begun an investigation after a three-year-old boy died in an incident in a lift in Galway city centre.
Solomon Soremekun died after falling into the lift shaft at the Hynes Building on St Augustine Street on Monday afternoon.
Gardaí (Irish police) said his death was a tragic accident.
HSA inspectors are trying to establish how the boy fell into the lift shaft.
The three-story building remains closed to the public while examinations continue.
It is understood the boy's family were visiting the Department of Social Protection office in the premises at the time.
The toddler suffered serious injuries and was pronounced dead at the scene.
A post mortem examination will be carried out at Galway University Hospital on Tuesday.