Winter Olympics: Russia arrests five 'terror suspects'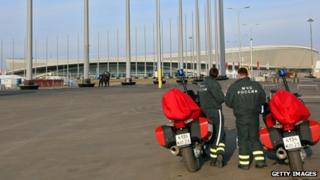 Russian authorities say they have detained five members of a "banned international terrorist organisation" in the restive North Caucasus region.
The arrests were made in the town of Nalchik, some 300km (185 miles) east of the Black Sea resort of Sochi, the host of next month's Winter Olympics.
Russia earlier announced it was deploying more than 30,000 police and interior ministry troops to the region.
The main concern is the threat of attack by Islamist militants.
Security fears have been heightened after two suicide bomb attacks killed 34 people in the southern city of Volgograd on 29 and 30 December.
The bombings were similar to previous indiscriminate attacks by Islamist militants operating from the North Caucasus, where violent anti-Moscow separatism is rife.
No group has said it carried out the attacks, but Russia's most wanted man, Chechen rebel leader Doku Umarov, has previously urged his fighters to target the Games.
'Explosive device'
The five suspects were in possession of "grenades, ammunition, and a homemade explosive device packed with shrapnel", the National Anti-Terrorism Committee said.
The authorities did not provide further details on the terror organisation the men were alleged to belong to.
Russian police arrested more than 700 people following the twin bomb attacks in Volgograd.
Investigators believe the perpetrators were two men who arrived in the city from the North Caucasus.
The bombings prompted President Vladimir Putin to launch one of the biggest security operations in Olympic history, and personally inspect the sites of the Games.
Russian officials are establishing two security zones to protect the event, due to start on 7 February.
A "controlled zone" near Olympic venues will limit access to people with tickets and proof of identity while another "forbidden zone" will be in place in large areas around Sochi.
Vehicles not registered locally and which do not have special accreditation will be banned from the city. The sale of firearms, explosives and ammunition will also be prohibited.
On Friday, the US issued a travel alert for its citizens planning to attend the Games.
It warned of the potential for terrorism in Russia, but said there was no specific threat to Americans.
In recent years, a conflict between Russian forces and separatists in Chechnya has been the source of attacks by Islamists.
The violence has spread across the North Caucasus, including to mainly Muslim Ingushetia and Dagestan, killing hundreds of people, among them members of the government and security services.