Jennifer Lauren fined for air rage offences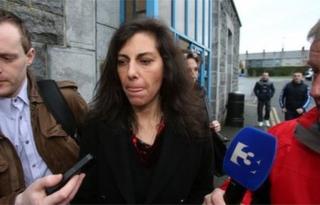 The niece of fashion designer Ralph Lauren has been fined 2,000 euros (£1,650) for pushing an air hostess and swearing at airline staff.
Jenny Lauren pleaded guilty to breaching the peace and being drunk on a Delta Air Lines flight on Monday.
The Barcelona to New York flight had to be diverted to Shannon Airport in the west of Ireland on Monday afternoon.
Her solicitor told Ennis District Court in County Clare that Lauren was upset and embarrassed by her actions.
The New York-based jewellery designer bit her lip and looked to the ground in the dock while a police inspector told the court she had been loud-mouthed, abusive and threatening on the aircraft.
He said the flight, bound for New York's JFK airport, had been in the air for two hours when an air hostess noticed the defendant crying in her seat, which would not recline properly.
'Incoherently'
The policeman said Lauren used strong language and told a stewardess to "get out of my face" as she tried to help, and when told to calm down she became more abusive.
The court heard that when the stewardess went to brief her supervisor at the top of the plane, Lauren followed her through first class and into the galley "at speed" where she ranted, roared and shouted incoherently.
"She told the air hostess she was going to go ballistic and pushed the air hostess hard and she hit her back against the wall of the aircraft," the police officers said.
He said her "frightening experience" continued with Lauren calling her an "ugly, blonde bitch" and calling the senior stewardess a "fat ugly, unhappy, blonde bitch".
A pilot on a rest break in the cabin also intervened and was called "an asshole" by the defendant, the court heard.
Lauren, dressed in a black jumper, burgundy velvet skirt and boots, looked back to her friends for reassurance as the details were outlined to the packed courtroom.
More than 200 passengers and crew were on board the flight from Barcelona to New York when the air rage incident took place.
The diversion cost Delta $43,158 (31,770 euros, £26,269).
The defendant admitted being intoxicated to such an extent as would give rise to a reasonable apprehension that she might endanger herself or other persons on board the aircraft and to breaching the peace by engaging in threatening, abusive or insulting behaviour.
A third charge, of engaging in behaviour likely to cause serious offence or annoyance to any person on board the aircraft, after being asked by a crew member to stop, was withdrawn by the prosecution.
All the charges were brought under the Air Navigation and Transport Act 1973.