Fraud swoop in Italy's L'Aquila earthquake zone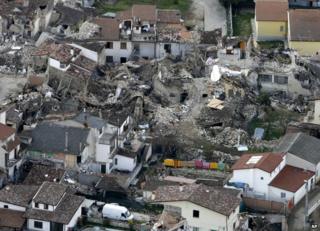 Eight people have been put under investigation in Italy's L'Aquila area over allegations of fraud following the earthquake nearly five years ago.
Some 40 police officers carried out dawn raids near the city in the central region of Abruzzo.
Four people were placed under house arrest while four others were notified they were under formal investigation.
They are suspected of bribe-taking or false accounting, to the sum of more than 2m euros (£1.4m; $2.3m).
The suspects include several people with past or present links to the local council. One of them, current deputy mayor Robert Riga, has denied any wrongdoing.
'Betrayed'
Bribes were allegedly paid by firms looking to win reconstruction projects soon after the earthquake on 6 April 2009, in which more than 300 people died and some 65,000 lost their homes.
If the corruption allegations are correct, while the people of L'Aquila were still mourning their dead in their ruined city, leading council figures were seizing the chance to fill their pockets, the BBC's Alan Johnston reports from Rome.
The mayor of L'Aquila, Massimo Cialente, who has not been implicated, said he felt "betrayed". "I've always urged the utmost transparency and respect for the law," he added.
Two months ago, a European Parliament inspector expressed concern at reports that some money spent on building homes in L'Aquila had gone to firms with links to the Mafia.
Soren Bo Sondergaard found serious allegations that part of the money spent on building new accommodation for the quake's victims had been paid to companies with "direct or indirect ties" to organised crime.
He also criticised as dangerous and unhealthy some of the new accommodation built in the town.