Dieudonne: Hollande backs Nantes and Tours bans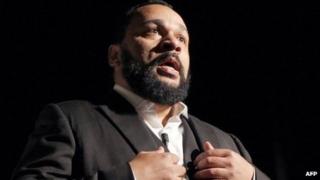 Nantes and Tours have become the latest French cities to ban a show by controversial comic Dieudonne M'bala M'bala.
Dieudonne, who has six convictions for hate speech against Jews, had been due to open his tour in Nantes on Thursday.
Bordeaux and Marseille had already cancelled performances.
President Francois Hollande earlier urged French officials to enforce an order authorising the ban, but Dieudonne has vowed to appeal.
The comic has quipped about gas chambers and is accused of deriding Holocaust survivors and victims.
But he denies his trademark "quenelle" gesture is an inverted Nazi salute, instead describing it as an anti-establishment sign.
It made headlines in the UK in late December when used by West Bromwich Albion footballer Nicolas Anelka during a goal celebration.
The striker said the gesture had been "a dedication to Dieudonne", not an anti-Semitic salute.
'Risky' move
On Monday, Interior Minister Manuel Valls said he had advised city mayors and police prefects that Dieudonne's show could be banned if it was deemed to present a threat to public order.
Mr Hollande weighed into the furore on Tuesday, urging "the representatives of the state - in particular the prefects - to be vigilant and inflexible" in the face of "all the violations of the principles of the Republic".
Dieudonne's one-man show, The Wall, is said to contain a string of derogatory references to Jews.
In a reflection of the comedian's popularity in spite of his notoriety, 5,000 tickets had already reportedly been sold for the Nantes performance.
Authorities in Bordeaux and Marseille were the first to act, banning the comedian's 26 January show on Monday.
But he remains booked to play at a series of French venues until June.
Dieudonne's lawyer, Jacques Verdier, said his client would immediately appeal against any ban on him performing, using France's powerful legal provisions defending freedom of speech.
"Freedom of expression is not at the whim of governments or a comedian," the comic's legal team said in a statement, according to Reuters news agency.
"It is what makes it possible to do what is hardest between humans - notably to say what you feel to someone."
Critics fear the government's moves to ban Dieudonne could backfire, particularly if they are overturned on legal grounds, and risk cementing his cult status.
"Rather than embarking on pre-emptive bans with a shaky legal foundation and uncertain political results, the authorities should concentrate on punishing crimes once they are committed," said France's Human Rights League (LDH) in a statement on Monday.