Spain search as storm sweeps three family members into sea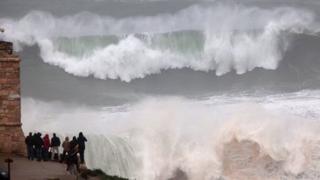 Rescuers have found the body of a man on Spain's north-west coast where three people from the same family were swept out to sea by a huge wave.
The man was identified as Juan Bedoya, a 50-year-old butcher, one of those who went missing on the rocky coast at Valdovino, Galicia.
A search is continuing for his 25-year-old daughter and his brother-in-law.
Another daughter managed to scramble ashore. Reports say they had gone to scatter the ashes of a dead relative.
It comes as severe storms batter Europe's Atlantic coastlines.
Local Mayor Jose Antonio Vigo said the search was being supported by a ship and an aircraft from a rescue centre based at A Coruna.
He said they were struggling against waves as high as 12m (40ft) and winds of 80km/h (50mph). "It will be very difficult to see anything down there," he said.
The search resumed early on Tuesday, having begun on Monday evening.