French comic Dieudonne 'must pay racism fines' - Valls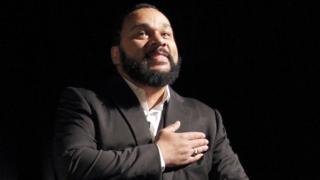 The French interior minister says he is determined to make the controversial comedian Dieudonne M'bala M'bala pay the big fines he has incurred for racist abuse.
Speaking on Europe 1 radio, Manuel Valls accused Dieudonne of trying to bankrupt himself, to avoid paying fines totalling tens of thousands of euros.
Dieudonne has been accused of anti-Semitism and Mr Valls wants him banned.
On Thursday there was a bomb scare at a Paris theatre run by Dieudonne.
A police bomb squad was sent to the Theatre de la Main d'Or, but no explosives were found.
Dieudonne has six convictions for hate speech against Jews but started out as an anti-racism activist. Youths from migrant communities are his core audience.
His trademark is the quenelle gesture, which critics see as an inverted Nazi salute. He says it is an anti-establishment gesture. It made headlines in the UK last week when used by West Bromwich Albion footballer Nicolas Anelka.
In the radio interview, Mr Valls said: "All the services of the state must be mobilised... to make Dieudonne M'bala M'bala pay his fines." "Nobody can be above the law," he added.
There are doubts about a forthcoming nationwide tour by Dieudonne, after the authorities in Metz and Nancy called for his shows to be cancelled.