Cyclone Bejisa: French Reunion island brushed by storm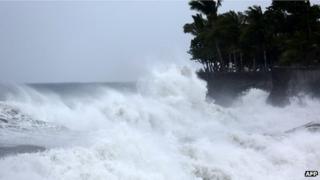 Cyclone Bejisa has passed close to the French island of Reunion in the Indian Ocean, leaving 15 people injured, power lines down and homes damaged.
The storm brought winds of 150 km/h (93mph) and 8m (26ft) waves as its eye came within 15km of the coast.
Up to a quarter of the island's 0.8m population had water cut off from their homes, and a similar number lost power.
Meanwhile the Roland Garros airport has been closed and transport and postal services have been suspended.
The island continues to be battered by high winds, but meteorologist Philippe Caroff said the worst was now over.
Of the 15 injured, two were in a serious condition after falling from rooves while trying to secure their homes, local officials said. The other injuries were described as minor.