Priest freed in Cameroon arrives back in France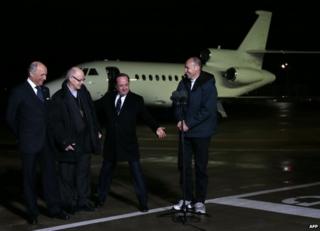 A French Catholic priest freed in Cameroon nearly seven weeks after being abducted has been welcomed back to France by President Francois Hollande.
Mr Hollande shook hands with a smiling Fr Georges Vandenbeusch after his arrival at an air base near Paris early on New Year's Day.
He paid tribute to the "bravery" of the cleric, who was abducted from his parish by gunmen and moved to Nigeria.
The French government insists no ransom was paid for his release.
He was freed on New Year's Eve in circumstances which are still unclear.
Nigeria's Islamist group Boko Haram said it had abducted Fr Vandenbeusch, who was seized on 17 November near Koza in northern Cameroon, close to the border with Nigeria.
Six other French nationals remain in captivity in Mali and Syria.
'Under a tree'
The 42-year-old priest, who was also met by relatives at Villacoublay air base, expressed "great joy" at returning home but said people should remember the other hostages.
Earlier, he told reporters in Cameroon: "I am in great shape, very grateful to all those who worked to free me."
Captivity had been a time of "terrible boredom, sadness and anger because I'm very fond of the parish where I worked", he said.
"I was under a tree for a month and a half," he added. His two main guards spoke a local language and no English, he explained, and he had had no access to reading materials or radio.
In his former parish of Sceaux, near Paris, bells rang out on Tuesday to celebrate his release.
"This church prayed for him a lot," Marie, a 45-year-old worshipper, told AFP news agency. "Every day, candles were lit. You had to believe in it."
Vatican spokesman Federico Lombardi welcomed the priest's release, saying: "We hope that all forms of violence, hatred and conflict in the tormented regions of Africa be stamped out, as well as elsewhere in the world."
At Villacoublay air base, Mr Hollande thanked Cameroon's President, Paul Biya, for his help in securing the cleric's freedom.
"We have to warn those who may be at risk in areas where there is danger," he said.
France needed to be "rigorous" in not allowing others to be taken hostage, the president added, saying he intended to do "everything" to free the remaining hostages.
Foreign Minister Laurent Fabius, who collected the priest from the Cameroonian capital Yaounde, described his release as "the best end of year gift".
"The French government does not pay ransoms," he told reporters in Yaounde, adding that there had been "discussions".
Earlier this year, seven members of a French family called Moulin-Fournier - four of them children - were abducted by Boko Haram in northern Cameroon and held hostage for two months.
Boko Haram was paid more than $3m (£2m; 2.2m euros) before releasing the family, according to a confidential Nigerian government report seen by Reuters news agency. There was no official confirmation of that ransom.