Guantanamo Bay: US hails 'milestone' release of Chinese Uighurs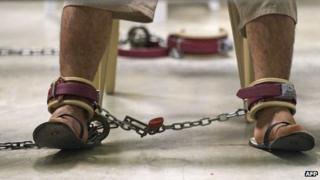 The US has hailed the release of the last three Chinese Muslim Uighurs from the US military prison at Guantanamo Bay as a "significant milestone".
They were flown to the Slovakian capital Bratislava, where the US said they were "voluntarily resettling".
None of them are terror suspects, the Slovakian interior ministry said.
Guantanamo now holds 155 prisoners, down from more than 750. Many have been there more than a decade, and dozens were cleared for release years ago.
The US says it refuses to repatriate Uighur detainees to China because of the risk they could be mistreated. China has cracked down hard on Uighur dissidents who oppose rule from Beijing.
Slovakia - a member of the EU and Nato - also accepted three inmates from Guantanamo in 2010.
Since 2001 the prison on Cuban soil has housed suspects detained by US forces during operations against al-Qaeda and the Taliban.
Hunger strike
A US Department of Defense statement named the three Uighurs as Yusef Abbas, Saidullah Khalik and Hajiakbar Abdul Ghuper.
"These three are the last ethnic Uighur Chinese nationals to be transferred," said Pentagon press secretary Rear Admiral John Kirby.
"This transfer and resettlement constitutes a significant milestone in our effort to close the detention facility at Guantanamo Bay," his statement said, thanking the Slovak government for its "humanitarian gesture".
According to a prisoner list published on the Wikileaks website, 22 Chinese Uighurs were imprisoned at Guantanamo by US forces after capture in Afghanistan.
Many of the remaining prisoners are from Yemen, including 56 who have been cleared for transfer. They are no longer considered enemy combatants or a threat to US security.
But despite the US lifting its moratorium on Yemeni transfers earlier this year, none have been released.
More than 100 inmates went on hunger strike at Guantanamo earlier this year.
In April US President Barack Obama renewed his call to close the prison, labeling it inefficient and harmful to America's international standing.
Previously six Uighurs have been sent from Guantanamo to the Pacific island nation of Palau, while 11 others have gone to Bermuda, Albania and Switzerland.
The Uighurs are a mainly Muslim, Turkic-speaking minority based in western China's Xinjiang region.