Russian press calls for crackdown on terror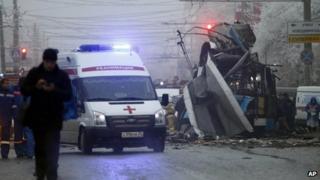 Commentators in Russian newspapers call for a tough response to terrorism, saying there could be further attacks with the Winter Olympics due to begin in the Black Sea resort of Sochi in six weeks.
Two deadly blasts in the southern Russian town of Volgograd - one which ripped a trolleybus apart during Monday's rush hour and another at the railway station on Sunday - are being given widespread coverage by the media, with suspicion falling on Islamist hardliners.
While one paper quotes security experts as suggesting the station attack was the result of a failure of the special services, a commentator in another believes Russia needs to deal with Arab countries allegedly supporting Islamic terrorism within the country.
A writer in a tabloid says the state should be tough not only with terrorists, but with their families who fail to report preparations of attacks.
'Unfriendly measures'
The pro-government daily Izvestiya quotes security experts as attributing the railway station blast to a failure of the special services. They suggest various remedies, including the stepping up of intelligence gathering, ending uncontrolled migration, as well as surveillance of women who have recently converted to Islam.
The terrorist underground has changed its tactics, and Russia needs to react as soon as possible, the experts are quoted as saying.
Kirill Benediktov, writing in Izvestiya, expects further attempted terrorist attacks in Russia until the Olympics in Sochi are over, and believes the attacks are intended to discredit Russia.
''There is no doubt that the Salafist regimes of the Persian Gulf, primarily Saudi Arabia, have been supporting Islamic terrorism in Russia… Russia is now strong enough to afford unfriendly measures towards the regimes that have been using the Wahhabi fifth column in order to destabilise the situation in our country,'' says Benediktov.
Galina Khizreyeva, a specialist in radical Islamism at the Russian Institute of Strategic Studies, is quoted by the popular daily Moskovskiy Komsomolets as saying that Volgograd is vulnerable to attack and that people there are not yet fully aware of the danger.
''The terrorists have a new strategy of involving Russians in carrying out terrorist attacks to show that Russians are unhappy with the authorities. This problem should be solved at a federal level. It is necessary to pass laws as soon as possible to help stop extremism and Wahhabism, which result in terrorism,'' she is quoted as saying.
'Zero tolerance'
Aleksandr Grishin, writing in the pro-government tabloid Komsomolskaya Pravda, believes that punishment should also be meted out on the relatives of attackers.
''We are left with no choice apart from declaring zero tolerance regarding terrorists and members of their families,'' he says.
"There should be no concessions from the state towards bandits' relatives, anyone who was aware of preparations for a terrorist attack but did not report to law-enforcement bodies should be imprisoned… There should be a life sentence for terror, the death penalty for organisers.''
He also suggests that graduates of theological schools in Saudi Arabia should be prohibited from spreading propaganda, and young people should be stopped from studying at such centres.
And retired police Lt Gen Aleksandr Gurov tells Komsomolskaya Pravda that the country could minimise terrorism by using more agents trained to identify terrorists.
BBC Monitoring reports and analyses news from TV, radio, web and print media around the world. For more reports from BBC Monitoring, click here. You can follow BBC Monitoring on Twitter and Facebook.