Sligo siege: Man arrested after shots fired at police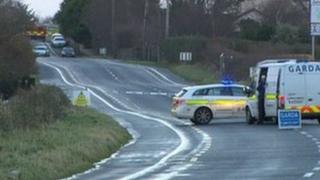 A man has been arrested after an armed stand-off with police at a house outside Sligo.
The man, believed to be in his 30s, was arrested at around 13:30 GMT on Saturday.
During the siege the man twice fired shots at police, who also returned fire. No-one was injured.
A licensed shotgun was recovered from the house, which is believed to be the family home. No other family members were present.
The man was taken to Sligo police station for questioning.
Police were alerted to suspicious activity at the house on the Strandhill Road, in an area known locally as Scardenmore, at 12:30 GMT.
The man opened fire on the first officers at the scene, and again when a second unit arrived.
Hostage negotiators and an armed unit were also sent to the house.
A number of houses in the surrounding area were evacuated and the main Sligo to Strandhill road was closed.
The incident ended when the man left the house at 13:30 GMT.
The area remains sealed off for a technical and ballistic examination.