Turkey: Army will not get involved in politics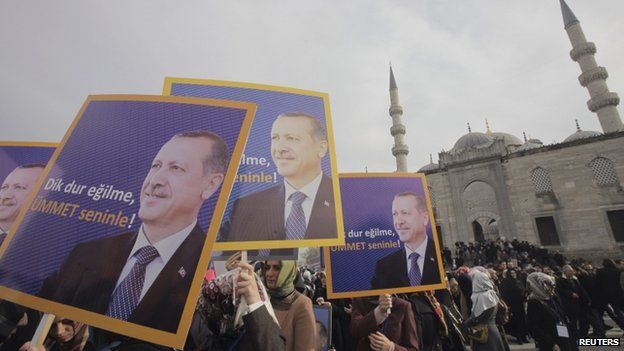 Turkey's military has said it does not want to get involved in "political arguments", amid a major political corruption scandal.
The crisis has forced Prime Minister Recep Tayyip Erdogan to reshuffle his cabinet following the resignations of three ministers.
The ministers' sons were among dozens of people detained as part of a wide-ranging corruption probe.
Meanwhile police broke up anti-government protests in Istanbul.
Officers used tear gas, rubber bullets and water cannon to disperse protesters in the city's Taksim Square.
Protests were also held in the capital Ankara and the third-largest city Izmir.
Supporters of the prime minister held their own demonstrations.
Police are investigating allegations of illicit money transfers to Iran and bribery for construction projects.
The scandal has caused Turkey's lira to fall to a new low against the dollar.
Mr Erdogan gave a speech at Istanbul's main airport to thousands of pro-government supporters on Friday evening.
The Turkish army's statement comes in response to a suggestion in the media by an ally of the prime minister that the corruption scandal might be a plot to trigger a military coup.
"The Turkish Armed Forces (TSK) does not want to be involved in political debates. On the other hand, the TSK will keep on closely following the developments regarding its corporate identity and the legal positions of its members," it said.
Turkey has a history of military takeovers but its power has been curbed during Mr Erdogan's decade in power.
The country's top administrative court has blocked a government decree, introduced last week, ordering police to inform their superiors before launching investigations.
The Council of State's ruling on Friday, blocking the regulation, is seen as the latest setback in Mr Erdogan's efforts to stop the political fallout from the scandal.
Three politicians resigned from the governing Justice and Development Party (AKP) on Friday over the row.
They had been referred for disciplinary action over their criticism of the government, according to Turkey's Hurriyet newspaper.
Announcing his resignation, Ertugrul Gunay, a former culture minister, accused the AKP's leadership of "arrogance".
Izmir MP Erdal Kalkan and Ankara MP Haluk Ozdalga also stepped down from the party.
The resignations came as the European Union called on Turkey to address corruption allegations involving close government allies in a "transparent and impartial manner".
"I urge Turkey... to take all the necessary measures to ensure that allegations of wrongdoing are addressed without discrimination or preference in a transparent and impartial manner," EU Enlargement Commissioner Stefan Fuele said in a statement.
On Wednesday Mr Erdogan named 10 new ministers to join his cabinet after talks with President Abdullah Gul.
One of the three ministers to resign, former Environment Minister Erdogan Bayraktar, has urged Mr Erdogan to step down himself.
Numerous police and judicial officials have been removed from their posts since the first arrests 10 days ago.
On Thursday a state prosecutor, Muammar Akkas, said he was prevented from carrying out an investigation into corruption and had been removed from the case.
Istanbul's Chief Prosecutor, Turhan Colakkadi, said Mr Akkas had been removed for leaking information to the media.
Commentators in Turkey believe the scandal stems from a power struggle between Mr Erdogan's government and an influential US-based Muslim cleric, Fethullah Gulen, who is said to have many followers within Turkey's police and judiciary.
Supporters regard the Hizmet movement inspired by Mr Gulen as the benign, modern face of Islam, but critics question its motives.
Mr Gulen, who has denied any involvement in the investigation, left Turkey in 1999 after being accused by the then government of plotting to establish an Islamic state.
He was cleared of that charge but has never returned to Turkey and now lives in Pennsylvania.
Related Internet Links
The BBC is not responsible for the content of external sites.